Joga is an athletic style of yoga that challenges the body physically and mentally. Joga is also embodies the philosophies of mindfulness and awareness- not only within ourselves but extending these philosophies to our surroundings, and how we exist and build relationships with these surroundings.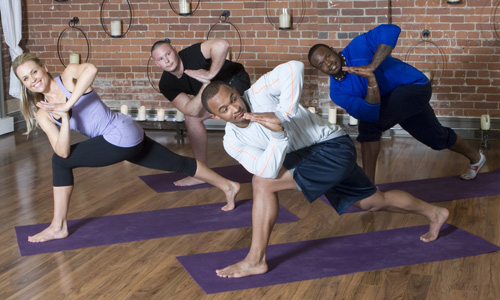 The practice of learning how to listen to our breath and move within our limitations is the easiest way to become more mindful and aware of ourselves.  Taking the time to hear our breath not only educates us on where we hold our tensions but the length of our inhales and exhales determines tendencies of giving and receiving. When you breathe, if your exhales are naturally longer than your inhales this indicates that you are predominantly a "giver" of energy – and vice versa, if your inhales are longer than your exhales – you are a "receiver" of energy. One is not better than the other – we need both to be able to co-exist and balance each other out.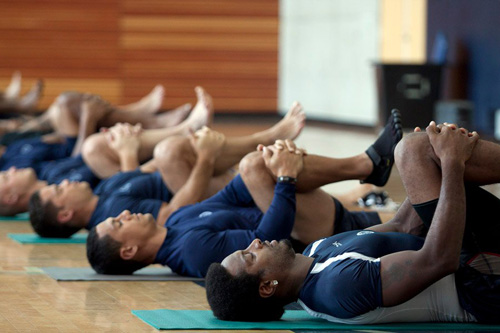 Physically, Joga teaches us to move within our own limitations and be mindful of injuries and ailments.  Creating these habits of nurturing ourselves affords us the opportunity to listen to our physical needs. As we become more aware of what we need physically, we build confidence and accept our physical selves as we are intended to be.
As we start to tune into how we move and breathe we are then able to extend these observation tools to what and who surrounds us. From there we can decide to stand alone with confidence in these un-controlled circumstances or we can take on the role of relationship and start to identify more intelligently to these circumstances.
In either case it's about relationship. The concentrated effort of building mindful, healthy relationship with ourselves is pertinent to then move forward and build healthy relationships with others.  The following exercise is a simple technique to expand the discovery of self awareness and social consciousness.
Simple exercise:
Part A)
lie on your back and rest comfortably
start to breath deep in and out through the nose
start to become aware of what your breath sounds like
observe the lengths of inhales in comparison to exhales
notice what parts of the body move on the inhale and on the exhale
What does YOUR breath sound like? Feel like? Look like?
Part B)
continuing lying on your back in a comfortable position
start to draw awareness to the sounds that you hear around you
notice the temperature of the air moving around you
tune into any smells that you sense around you
What do your SURROUNDINGS sound like? Feel like? Smell like?
Part C)
Continue lying on your back
Imagine walking 10 feet away from your body and observe what you look like lying there
As you stand there and observe –start to notice your belly rise and fall with the breath
Now begin to recognize what and who surrounds you
Acknowledge how calm and centered you are  with yourself and your surroundings