Vulvas vs. Vaginas
One of our first lessons in language and anatomy usually entails learning the names of our body parts. From a very young age we can identify our heads and shoulders, knees and toes, and we even celebrate them in song. However, when it comes to naming our body parts that are considered sexual, the story differs. Euphemisms and secrecy abound and this can result in both shame and confusion which we carry forward into our adult years.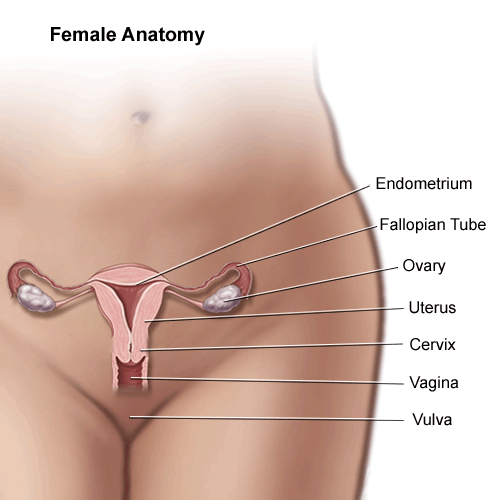 The vagina is an example of a word that has spawned a wide array of euphemisms. From va-jay-jay and cookie to hoo-haw and poonani, there are definitely more words to describe your vagina than there will ever be for your elbow or your fingertips. From my experience, working in adult sex education, I've discovered many people don't know the difference between the vagina and the vulva. Since getting to know your body, and that of your partner, is essential to positive body image and sexual empowerment; here's a quick rundown on the glorious vulva and the marvelous vagina.
The vulva is comprised of the outer components of the female genital region including the inner and outer labia (lips), the vaginal opening (introitus), the clitoral glans and hood (the pea-sized bump and the foreskin that covers it), the urethral meatus (pee hole) and the pubic mound (area over the pubic bone upon which pubic hair grows). Many women experience intensely pleasurable sensations from a little vulva massage because of its connection with the clitoris and its many nerve endings. And since two-thirds of women don't reach orgasm through vaginal intercourse alone, the vulva is a great place to look for additional (or primary) stimulation.
While the vulva is on the outside, the vagina is the part on the inside. It's the interior space beginning at the vaginal entrance and ending at the cervix (the entrance or neck of the uterus). It is a muscular tract that can sometimes be difficult to locate for young women, as it is a potential space as opposed to a gaping hole. Though the walls of the vagina generally touch in a relaxed state, during arousal this elastic tube-like structure can expand to accommodate an inserted object. Composed of expandable tissue, it functions as a passageway for childbirth, provides a barrier against harmful bacteria and accommodates penises and other objects during sex play.
Though these are just a few of our fun and fabulous lady parts, it is important that we're able to identify, explore and understand our bodies and those of our partners. So take some time to check yours out or ask your partner to give you an anatomy lesson! Use a handheld mirror, lube, clean fingers and an open mind to learn more about your these parts and their unique responses to affection, touch and sexual stimuli.
As always have fun, experiment and always practice safer sex.