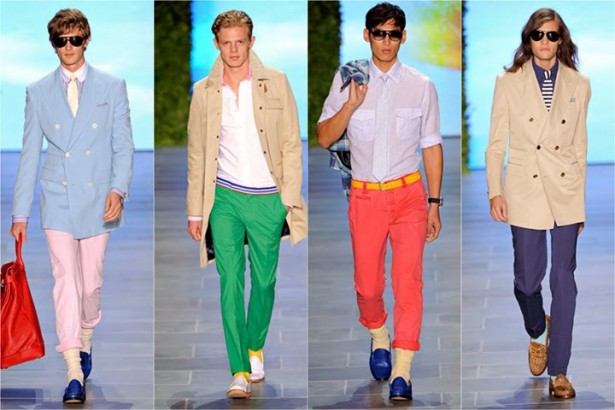 Coloured pants are a huge trend for Spring/Summer 2012. Although many men may shy away from adopting this look, it is not as scary as it seems upon first glance. Not only do coloured pants add modern flare to an outfit, but they can also be versatile, transitioning from day to night or weekday to weekend. Such pieces also add effortless interest, and will undoubtedly help you peacock … who doesn't love flaunting their feathers?
When shopping for this trend, first decide if you are in search of slacks or jeans (classic 5 pocket). Once you have made that decision, you can start browsing for the right cut and colour. Try to stick with a cut and fit that works with your body. Also be cognizant of the overall message the cut is portraying. For example, a slimmer jean definitely shouts fashion-forward, whereas a baggier trouser reflects a more classic and casual style.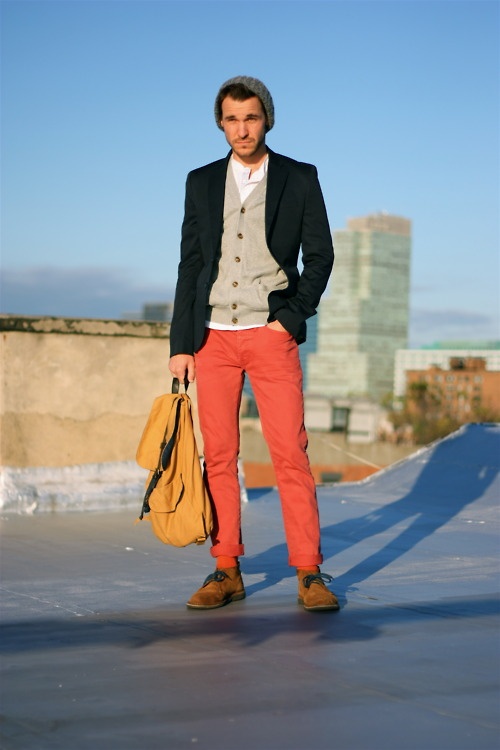 A variety of colours are widely available this season. Everything from mint green to burnt maroon, and everything in between are on retail selling floors everywhere. The vast array of colours may seem daunting at first, but should prove to be a fun shopping experience if you embrace the concept and have ample time, in order to try items on. It is suggested that you decide on a colour family to look for prior to heading out. Once you have a general idea of what types of colours you will be searching for, you can drastically improve your shopping efficiency. Make sure that the colour you decide on not only compliments your colouring, but your personality as well.
Once you have the perfect coloured pants for you, it is all about the pairing. For most, it is easiest to pair a neutral shirt with statement bottoms. Good examples of neutral shirt styles are the t-shirt (short and long) and the button down (in cotton or linen weave). Neutral colours are black, white, navy and grey. For those with a keener sense of colour matching, feel free to have fun, while being mindful of not looking like Rainbow Bright.
Happy colour blocking!