It's no surprise that we like to shake, pop, dip, and booty drop whenever the mood strikes – and we're dancing Divas so the mood is pretty much every moment of every day! If we aren't in action we're creatively creating up HOT new moves to blow your pretty little pink socks off! We also live a very Divalicious lifestyle meaning we're always on the go – staying fabulous of course! As much as we'd love to be on stage entertaining you darlings all day long we need some downtime to get those creative juices flowing! We always come back bigger and better than the last so here are our top five spots we like to shake it before we hit the stage and how you can too!
In the Bathroom Bright and Early – It's safe to say us Divas are always ready to go at any hour of the day so we awake with a "let's party!" attitude! How do we get the party started so early you ask? Simple darling – throw on your favourite party playlist! We know you have one – you know that one that gets your heart pumping, foot tapping, hips shaking, and booty dropping? The one that makes you feel like there isn't a single care in the world, it's just you and your time to shine! Okay now work that makeup brush like Gaga's bedazzled microphone – I mean you may as well be Gaga in those teeny tiny panties and crop top! You go girl!
In Front of Your Full View Mirror – Sometimes Divas just wanna have fun all on our own, playing dress-up then dancing around our house in front of the full-view mirror – we clearly want to check ourselves our from all angles. There really isn't anything more fun than playing pretend in your own closet being your eccentric and fabulous self! Throw on your most Marilyn dress, more accessories than you can count, a boa, tiara – YES girl that's it! You're like Tom Cruise in "Risky Business"  except with a hotter pair of legs and a cuter outfit. Now we're ready for that "Old Time Rock and Roll" and you are too!
In Your Elevator  – "This is probably one of the best places to "Shake it Like Nobody's Watching" because if you're in there all by yourself really no one is – well except for those darn security cameras but I mean the guards watching deserve a little bit of sultry entertainment right? We like to give a little mini dance show everywhere we go so while your in your cute outfit and pumps heading out for work, headphones in ear, touching up your gloss in those perfectly positioned mirrors so that you can see yourself everywhere you turn, start moving and shaking – your work day will be that much better!
Bar Top – Okay so remember how we said we're always ready to get the party started? Bar tops in a club are just about our fav! Coyote Ugly has nothing on us! We're already dressed to impress so just when everyone starts to pack into our nightclub of choice( you know when people are rubbing shoulders and getting all hot and heavy) we take to the bar top or podium like a go-go dancer! It's the best – you don't have to push and shove for a dance floor spot, your pumps stay polished and you can dance up a storm free as a bird without a single interruption. Next time you're out with the girl go on and get up there!
Dance Floor – There's nothing better than hitting up the dance floor and just letting the music and sounds take you away. Us Divas love getting out for a night on the town with our besties to a local spot, dolled up like a real star, acting as Divalicious as we please – nobody's watching you anyway ;). Next time you plan a night out make sure to throw on a splash of fabulous, a dab of Diva, and squirt of fun because it's always the right time to let loose and really shake up a storm!
On the topic of shaking it like a true Diva how about you join us and 400 other ladies for our birthday party? Divalicious 4 is on August 13 and we'll be dancing the night away and tearing up the dance floor! Check us out!
xox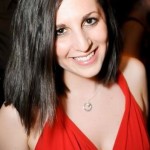 Written By Julia Marie Gallo
DivaGirl Membership & Social Membership Coordinator
[email protected]
www.divagirl-inc.com