A female friend of mine told me an interesting dating story the other day.
She was on a second date and it had gone surprisingly well.
Dinner was delicious. The conversation was interesting and he didn't do anything that "creeped her out".  A rare success!
As the night was winding down he suggested that they drop by his place for a drink. She was a little hesitant, but agreed.
When they got settled at his place they conversed until the conversation waned and it became silent. At that point, he looked at her for an awkward second and as adeptly as the question can be asked, inquired: "May I kiss you?"
A question requires an answer and an answer requires some thought.
In a microsecond my friend had to consider all of the information in front of her.  Was she interested in him?  Was a kiss appropriate at that moment?  What could it lead to and what would he think of her? The scenarios flooded her mind.
With too much to consider, she hastily answered, "No. Not right now!" and suggested that she should be going.
He conceded and they gathered up their half-finished glasses of wine and headed toward his door for their final good-bye.
All of a sudden, with a gentle yet unwavering motion, her suitor moved in and stole a quick kiss. With that, he wished her a good night and affirmed that he would be in touch again soon.
She stopped telling me the story and just starred at me with her round, unblinking green eyes. It was almost as though she was reliving the moment again.
I broke her trance to blurt out that I hated the whole "may I kiss you" move!
Then, getting a hold of herself, she recalled that the sudden request of a kiss did give her a feeling of being wrapped in a cold, wet blanket of imposed analysis.
To answer the question she had to think instead of simply feel.
"Ok, and how did you feel about the bold kiss at the door?" I inquired with my curiosity peaked.
She responded that she was somewhat stunned initially; but that within minutes she felt the chemistry levels rising throughout her body and she even began to feel a touch dizzy.
As I listened, I couldn't help but hear my mother's voice stressing that asking for a kiss was the gentlemanly thing to do. But my mother's not always right.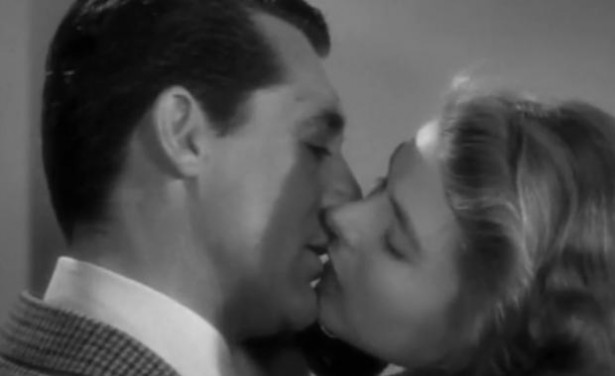 Then I recalled those old movies with the strong male protagonist. I thought of men like Cary Grant or Gregory Peck appropriately leading the tempo of the date without awkward interjections of "May I k-k-kiss you?".
Any woman will tell you that a man who knows how and when to appropriately take the lead and move the romantic situation along, is sexy. It's masculinity in action.
I asked my friend if she was planning to see him again. You can guess her answer.
In an enthusiastic voice she exclaimed, "Yes! And I can't wait for the next kiss!"