The natural health industry is a booming industry and is considered to be one of the fastest growing industries in North America.  Multinational companies that have nothing to do with health are creating some of the best selling natural health products on the market.  Our grocery store shelves are stacked with food products labeled 'all-natural', 'organic ingredients', 'fortified with vitamins', 'added phytosterols to lower cholesterol', and 'probiotic yoghurt'.  The reality is that most of these food products we see are well-marketed, but not always healthy for us.  For example, artificially sweetened yoghurt with added probiotics does not necessarily mean it's healthy.  The artificial sweeteners, flavours, corn starch, and additives may actually be doing more harm than the small amounts of 'good bacteria' added to the yoghurt.  Recently, a Toronto businessman was on Dragon's Den presenting his sexy new cereal called 'SexCereal'.  This episode definitely caught my attention and I couldn't wait to hear what was in it.  Let's check out the ingredients.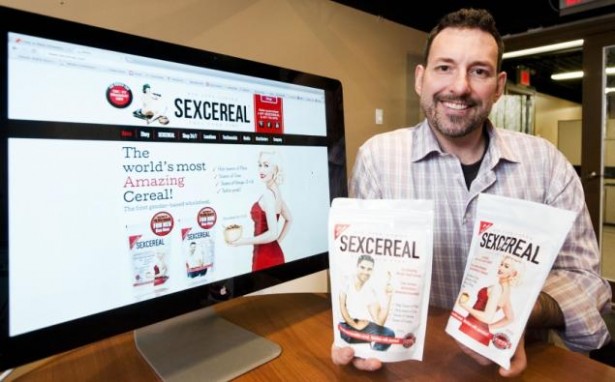 HIS SexCereal
Rolled oats, wheat germ, water, chia seeds, black sesame seeds, pumpkin seeds, blueberries (sweetened with apple juice), cacao nibs, goji berries, bee pollen, maca powder, camu camu, coconut sugar
HER SexCereal 
Rolled oats, oat bran, sunflower seeds, water, flax seeds, chia seeds, soy protein, cranberries (sweetened with apple juice), goji berries, cacao nibs, almonds, ginger ground, maca powder, coconut sugar
Peter Ehrlich is the creator of this cereal, which is made in St. Catherine's and costs between $10-$13 a bag and I thought my gluten-free cereal was pricey at $8 per bag.  For those of you wondering why it's being sold at such a high price point, it's because the ingredients used are not cheap.  Maca alone sells for about $35 per 90 grams.  It's important to point out that in the natural health industry, you get what you pay for. Thats the reason why high quality herbs, plants, oils, and seeds will cost you.  The question still remains – is this product worth the money or is it just another cleverly marketed natural health food product?
Toronto Social Media and Marketing Expert Lina Pa asks "Can SexCereal deliver the type of sexual encounters we view on Mad Men, amazing sex with someone like Jon Hamm and his allegedly enormous package or someone like Christina Hendricks and her dangerous curves? I am not sure. It is certainly clever marketing selling convenience in a portable package, with the underlying premise of mind-blowing sex and as we know, sex sells."
My thoughts? I say it's a fiber-rich morning cereal with well-selected ingredients that offer many health benefits. It's a clean formulation without artificial sweeteners, additives, and chemicals. I like the choice of ingredients – pure, nutrient-rich, and traditionally used to balance hormones, support sperm count, improve sexual endurance, and enhance libido. In addition, the cereal is a good source of antioxidants, iron, B vitamins, vitamin C, vitamin E, calcium, magnesium, zinc, and omega -3 and omega-6 fatty acids. With this selection of ingredients, your boss may be asking you why you were late for work.  Hand them a bag of SexCereal and they'll understand or maybe they'll just chuckle that you fell for a great marketing tactic.
Looking forward to hearing about your experiences with HIS and HER SexCereal!