It's Saturday night. You and your new squeeze have gotten past the uncertainty and initial excitement of your first few dates. You've done dinner, you've done coffee. Heck, you did dinner twice. You're well on your way, but what now? What does this particular Saturday night call for? You pick up the paper (or iPad/iPhone/Blackberry/Android/Computer… because it's 2013) and plan for a movie and dinner night.
You decide to sit down for ninety minutes to watch The Place Beyond the Pines, then have a bite. You'll be hungry as hell though. At 140 minutes, this very poignant and rigid movie, although strong and sincere, runs a bit long and strains for ultimate significance and an overall emotional response. The film however, directed by Derek Cianfrance and starring  Ryan Gosling, Eva Mendes, Ray Liotta and Bradley Cooper is filled with superb directing and stunning cinematography.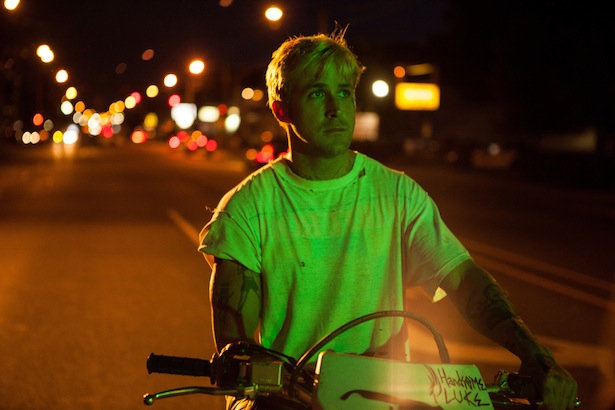 Set in Schenectady, New York, the film follows three individual characters, each with their own story. In the first, Ryan Gosling plays a motorcycle stunt rider who turns to robbing banks as a way to provide for his lover (Eva Mendez) and their newborn child. In the second, Bradley Cooper plays a cop whose act of heroism makes him an instant media star but lands him in a tangled web of corruption and defiance. In the third, which takes place 15 years after the first two stories, Dane DeHaan and Emory Cohen play Gosling's and Cooper's sons who essentially echo their fathers' personalities and form a tumultuous bond.
The Place Beyond the Pines is an intimate yet sweeping dramatic film and seems to try and speak about the bonds of fathers and sons above all else. It wonderfully accomplishes this, and finds a way to achieve continuity from story to story. The film's imagery is sweeping. There are tons of wide, overhead shots of pine trees, which look good, but get a little repetitive, come the 120th minute.
The film however, is gripping and exciting. There are brilliant performances by Cooper and Gosling to keep the narrative flowing. Painful and dramatic scenes are peppered throughout, and a dull and unused scene is nowhere to be well, seen. Ryan Gosling embraces his character's motivation and drive (pun partially intended) and in my opinion, is perfectly cast for the role.
The Place Beyond the Pines, although lengthy and drawn out, is brilliantly written, well-acted and definitely entertaining. Not too often do an ensemble cast and well-rounded director pull off a win, but this film is certainly one.
In its attempt to be a great American classic film, it manages to come close, but not quite. Classic is a tough standard to reach. If you however, appreciate well written narrative, fantastic acting or even just Ryan Gosling looking super cool while keeping his cool, fork out the dough and see this film.