This is a sneak peek into my upcoming book, The Little Book of Kink, by Quiver Publications…
Do you want to tie your lover up?
Or would you rather be the one shackled down?
Bondage can serve many functions including restricting movement, binding body parts together (e.g. ankles and/or wrists), spreading parts of the body apart or suspending the body from another objects (e.g. door frame or chin-up bar). The Chicken Wing Tie is designed for those who enjoy being fully exposed and having their movement restricted.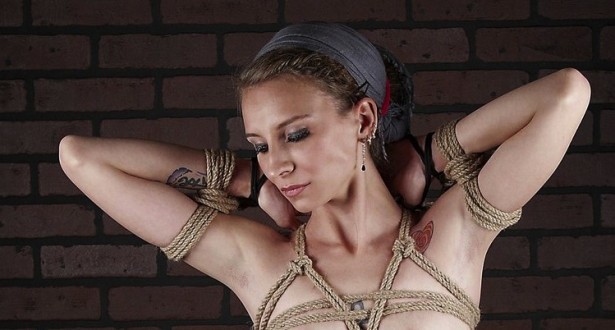 This is how you set it up:
• Kneel on a soft surface and lift your hands behind your head.
• Interlace your fingers right behind your head so that your upper and lower arms are in close proximity.
• Have your lover step in and tie your upper arms to your lower arms to restrict your movement as your arms take the form of raised wings. A long rope or non-stick ribbon is required for this maneuver as you wrap it in a figure eight formation around the lower arm and upper arm with care. Take care not to leave some slack for safety.
• As always, be sure to talk about your boundaries ahead of time and check in to make sure your lover's circulation is not cut off by the bondage rope/tape.
For the Ladies:
From this position, you can bend over as he slides in from behind or climb on top and give him some full-frontal eye candy.
For the Gents:
If you're all tied up, you can remain on your knees or lie back flat on the bed as she takes control.
For more kinky sex positions, techniques and role-plays, check out The Little Book of Kink, which is slated for release next month!