By: Amanda Clarke
As I look back upon my childhood, I can't recall a time when I didn't have a best girlfriend in my life. Even when I was a tom-boy climbing trees or playing with salamanders, I had girly sleepovers filled with strawberry ice-cream, photo shoots and board games.
As I got older, much stayed the same. I always had a female side-kick who I'd get into mischief with. What I didn't realize until I was a spiritually awakened woman was the real value of having girl-time.
Part of the reason I created my business The Luscious Feminine, was to fulfill my own need for sisterhood when I moved from the Halifax, Nova Scotia to the city of Toronto. Leaving behind all my close girlfriends left a vacant hole in my heart. From this place of longing I created the Monthly Women's Circle and after almost 3 years of holding women's circles my longing for sisterhood feels complete.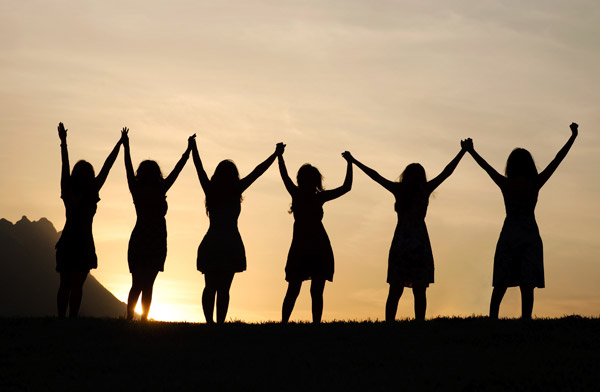 Sisterhood enriches lives and makes us better women.
Perhaps you've got questions on how sisterhood could benefit you. I've taken the time to create a small list that highlights its importance. See if you can identify where in your own life you may be missing in any of these areas.
Women thrive on appreciation.
It is the nature of the feminine to want to be seen and witnessed. Advertising plays into this fact. In magazine ads, you'll see a man in the distance affectionately gazing at a beautiful woman. When women come together in sisterhood, they mirror to each other their inner and outer beauty. Healthy attention is given without fear of being objectified or hit on.
Connecting with women makes you less needy for men.
When you are connecting with authentic supportive feminine relationships your need (not to be confused with desire) for men dwindles. The key here is having girlfriends that are authentic, supportive and loving. Not all girl-time is the same. Know the difference.
Having a solid support network lets you know that you are not alone.
Too often women feel the need to be superwomen and do it all alone. As nurturers and caretakers, it's burned in our DNA to operate this way. When you create a network of supportive women you learn that it's okay to ask for help. You learn how to let go and receive and that it's okay to lean on one another.
Your self-worth and self-esteem will thank you.
Women's circles and slumber parties can be wonderful vehicles to foster self-esteem and self-worth. They are places where we can share our stories, be heard and listened to with full presence. When we feel we matter our esteem our regard for ourselves grows. We learn to put ourselves first and to act from a place of self-love.
If you are not in a woman's circle or don't have many female friends who appreciate the magnitude of who you are then perhaps it's time to make space for authentic girl-time.
Amanda Clarke is the founder of The Luscious Feminine in Toronto, Canada. She is a lover of life, a certified Yoga Instructor, Feminine Embodiment Coach and a licensed Art of Feminine Presence teacher. Her mission is to help women 'come home' to their bodies and reclaim their feminine essence. For more information on individual coaching and upcoming classes please visit: www.thelusciousfeminine.com