Attend an amazing New Years Eve party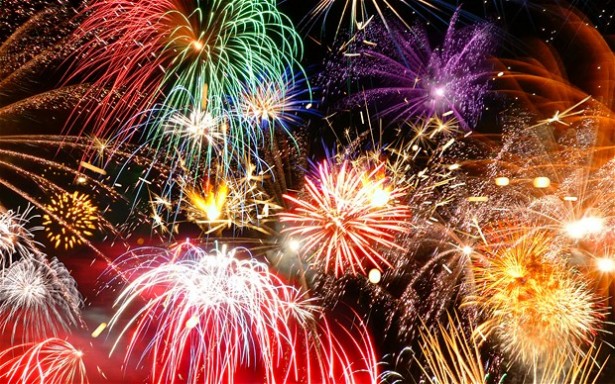 There are some great NYE parties being hosted by fantastic restaurants and clubs all over the continent, with prices starting at just $40 per person. You can't go wrong with the festivities at the Carriage House Inn's Mystique Club in Calgary, Alberta. At $125 per person (for a dinner buffet, drink tickets, live music until 2am), it's a great deal. Or opt for an overnight stay with your celebrations. Numerous hotels and resorts across North America offer incredible NYE deals. We recommend the New Years' Eve bash at the Fairmont Queen Elizabeth in Montreal Quebec. At $509/couple, it's a little pricey, but it includes all gratuities, one night's stay at the hotel, a 7 course dinner at Le Montrealais restaurant, a bottle of champagne, hats and noisemakers, and dancing to some great live music from 7pm to 2am. These, or any party you choose is a phenomenal way to ring in the New Year. So, relax and have some serious fun with your friends, and let somebody else worry about all the details and cleanup.
"In the New Year, may your right hand always be stretched out in friendship, but never in want" -Traditional Irish Toast
Have your own NYE party with a distinctive theme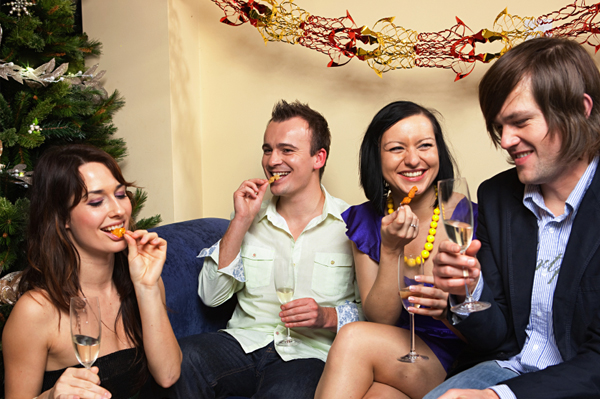 Throwing your own party may sound like a lot of work, and it can be. But with the proper advance planning, it is also an enormous amount of fun.
First, send personalized emails to invite your guest, make sure to ask for an RSVP as many people by now may have plans.. Don't start the party until the earliest 9pm or so. If it is too early, your guests will be burned out by the time the clock strikes twelve. Distinctly New Years' decorations are a surefire hit (gold, silver, black and white) and have party hats, noisemakers, and beads. All this adds to the excitement of the night. You might also want to have a kids-only room with toys and videos for those friends with children. That way, they don't have the added expense of a babysitter that night. You can also provide light refreshments for the little ones too.
Go for light fare in terms of food. After the mountainous amounts of food at Christmas, few will mind some delicious appetizers and fancy deserts. Champagne is a staple for toasting the dawn of a new year, but also have a good array of other alcoholic and non-alcoholic beverages, the latter for the designated drivers. And of course, have numbers handy for taxi companies when the party comes to an end. As a host and a friend, never let someone get behind the wheel impaired.
For something different, try a Murder Mystery theme to the evening. Even a karaoke machine adds alot of giddy fun. Belt out the biggest hits of yesteryear with all your friends laughing along with you, or at you, as the case may be.
A personalized item guests can leave with is a unique way to make things memorable. It could be inexpensive like a group photo of the event with New Years' 2013 on the back, or more pricey like New Years inscribed pocket watches. Whatever you choose, do something that will make them remember your celebration for years to come!
"Ring out the old, ring in the new, Ring, happy bells, across the snow: The year is going, let him go; Ring out the false, ring in the true." -Lord Alfred Tennyson
Create a Memory Jar
A great way to bring in a New Year for a family is to create a Memory Jar. Use an ordinary mason jar, a stack of note cards, and a pen in a central location of the home like the kitchen. Throughout the year, write down any and all noteworthy happenings in your family (your daughter's loose tooth, a job promotion, your son getting an "A" on his Math test, etc.) On New Years' Eve, in addition to having great food and drink, crack open the jar and reminisce about all the crazy things that happened to you and your family over the last 12 months.
A song for the old, while its knell is tolled, and its parting moments fly!
But a song and a cheer for the glad New Year, while we watch the old year die!
-George Cooper
Lean in to kiss that special someone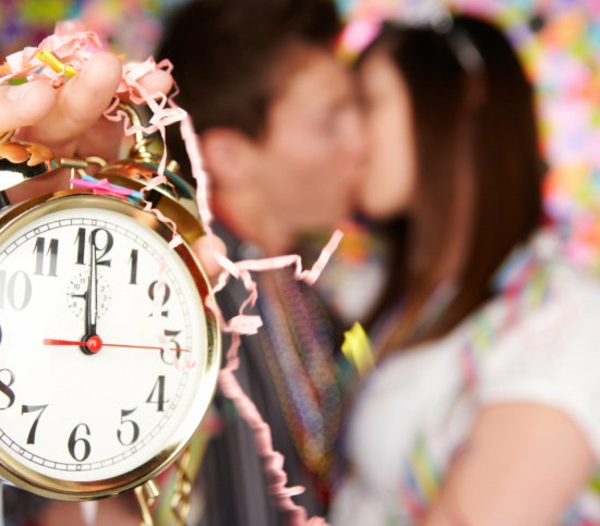 A kiss at midnight is a special part of the celebrations. According to English and German folklore, kissing at midnight is about strengthening ties with your spouse or significant other. For a single person, there's a superstition that not kissing someone will lead to another year of loneliness. As the clock strikes twelve, the fireworks go off, the confetti flies, people everywhere lean in to kiss that special someone, or somebody they hope will be special in the New Year. Dry cracked lips or bad breath can really ruin this, and make NYE memorable for all the wrong reasons. On that note, keep some chap stick handy and use it liberally and often. Also, in addition to a good oral hygiene regimen, have some gum, mints, or breath strips handy for the big moment when you go in for that kiss. If you follow this advice, New Years' Eve will instead be memorable for all the right reasons.
"New Year's Day is every [one]'s birthday." -Charles Lamb
Stay in for a memorable NYE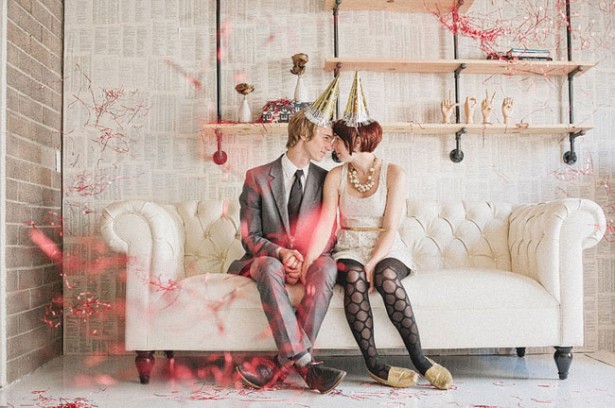 Not really in the mood for all the raucous festivities outside your front door? Stay in and celebrate in a more subdued manner. Whether you're single or married, this can be a great alternative to "painting the town red," and it is nothing to be ashamed of. Rent some DVDs or fire up NetFlix, bring in some nice wine, have a gourmet homemade dinner, and play some boardgames. The choice is yours. All these and more are fantastic ways to spend the biggest party night of the year without breaking the bank or rupturing your eardrums. And the plus side? A relatively good night's sleep, and no raging hangover later that morning!
"Each age has deemed the new-born year the fittest time for festal cheer." – Sir Walter Scott
By Eligible Magazine contributing editor Michael Riley