Especially during the last few weeks this winter has felt especially cold. Whether you are commuting through the transit system or jumping from your car to your destination you cannot escape bundling up for what seems to be Arctic temperatures. During this winter season, I particularly found it very interesting on how men have reacted to dressing for the cold . I noticed that a lot of gentlemen either went from one extreme to the next in their outerwear choices. The two groups of men that could use a little fashion help in order to bring the sexy back were the following types of guys:
A) The Michelin Man – This man takes the term "bundled up" to a whole new level. He accomplishes this by wearing an over-sized quilted down filled coat with an over-sized large fur trimmed hood. Then the accessories come into play. He pairs it with a never-ending long scarf wrapped around his neck, a stocking hat and a face mask that somewhat resembles Darth Vader and for the finishing touch, he wears over-sized bulky boots.
B) The Commuter Man – This Man doesn't have a lot of time in the morning to put something cool together. Some might say he maybe in a bit of a fashion rut and tends to lean towards the more traditional style of dress when it comes to wintertime. This look usually entails a lined leather or wool coat that is not tailored to his shape, a striped or solid scarf paired with nylon or leather gloves, some thermal earmuffs and either a waterproof boot or the waterproof rubber shoe covers to protect their dress shoes from the slush. This look is not necessarily horrible, but it definitely is not doing anything for your appearance or your sex appeal either.
During the wintertime people forget that your outerwear becomes your identifier to everyone. Since a lot of people usually wear the same coat and accessories pretty much everyday, I thought this would be a great topic to show you some great winter tips and accessories in order to liven up your winter uniform with little to no effort.
Here are a few of my favourite winter items or tips on how to bundle up for the cold weather but still feel sexy!
1) Casual Winter Boots – For the days that it is super snowy and slushy outside, I would recommend buying a boot from the brand "UGG Australia" The crazy thing is I was never a real fan of their boots because I never liked their styling in footwear for men, however the last two years I have been converted and seriously advise you to purchase the below boot. It comes in black and brown and it's waterproof. Right now, I am all about this casual style of boot for winter.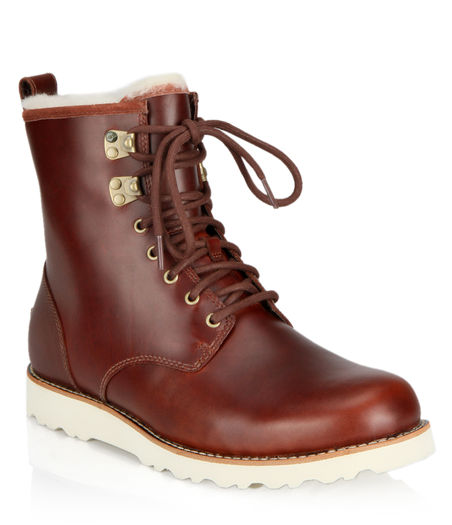 2) Down Filled Coats – The trick to buying a down filled coat especially if it is quilted puffer style is to avoid buying it over-sized compared to your frame. Look for a more slim fit because they often have no shape to them and you will look super blocky looking. Especially in this cold weather, you tend to see the same men wearing the exact same brand parka everywhere. So if you would like to switch things up, I would definitely check out the brand "Parajumpers". They have a beautiful fur trimmed hooded parka and they are more slim fitted in the chest and they just look fantastic. See below pic. This is one of my favourite parkas they offer from their masterpiece collection.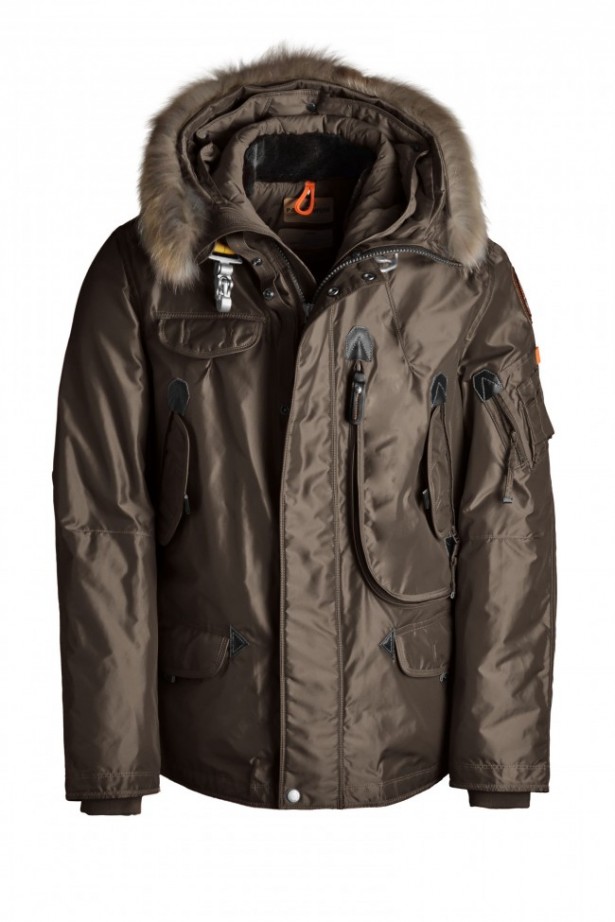 3) Hats – I love seeing a man wearing a hat. My most recent hat obsession for men is the trapper hat in a fur/leather combo or a structured hat. Yes, it is not for everyone but if you are feeling a little more adventurous this is a warm and fashionable accessory to wear. My other favourite hat is a fitted toque. You can look so sexy if you wear a toque that fits your head properly. Helpful tip – Do not wear a toque that looks like you have a cone-head, it should sculpt your head perfectly.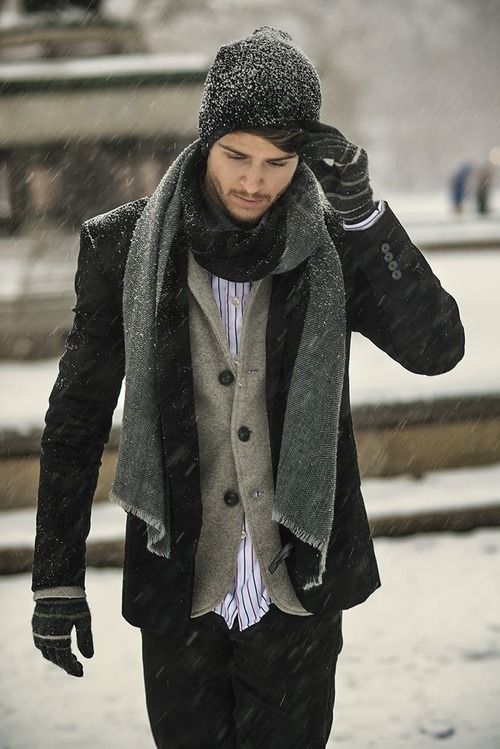 4) Show your winter layers whether it's casual or dressy! – Honestly, there is nothing more sexy when you are walking down the street and you see men bundled up and hints of what they are wearing are peeking through their layers. To clearly understand what I mean, check out the pictures below.
I'm not trying to tell you to abandon your need to feel super warm and not be practical. However, I am a believer that everyone wants to feel and look sexy. Really, who can argue with that!