A perfect getaway is the perfect way to reignite your romance or spend a romantic time with your significant other. Whether you're looking for an unforgettable honeymoon or relaxing weekend, this list of the top 10 world's most romantic hotels will make you fall in love all over again.
#1 Monastero Santa Rosa – Salerno, Amalfi Coast in Italy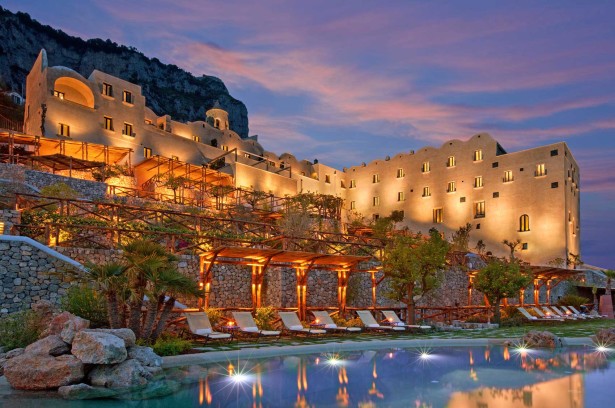 Mama Mia! If this doesn't call for romance, I don't know what does. Originally built in the late 17th century as a monastery, Monastero Santa Rosa has been beautifully and respectfully restored into an exclusive luxurious hotel and spa honoring its historic heritage. Perched on a cliff top overlooking the Tyrrhenian Sea, the hotel stands alone in majestic solitude. Along with the winding roads and the breathtaking scenery, Monastero Santa Rosa is the very essence of romance.
#2 Four Seasons Resort – Bora Bora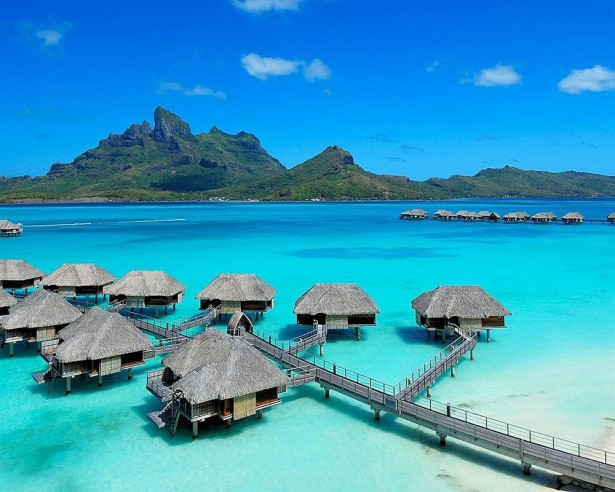 The Four Seasons Resort is located in the South Pacific Ocean on Bora Bora, one of French Polynesia's Society Islands. The resort offers you the ultimate escape to your romantic paradise. On this mystical island surrounded with white-fringed coral islets, Four Seasons embarks you to experience the love of the sea. Exotic over-water suites and beachfront villas will make you feel comfortable, relaxed and ignite the spirit of French Polynesia. The hotel combines the romantic stay on the blue lagoon with all the treasures of a luxury hotel.
#3 Shangri-La hotel – Paris, France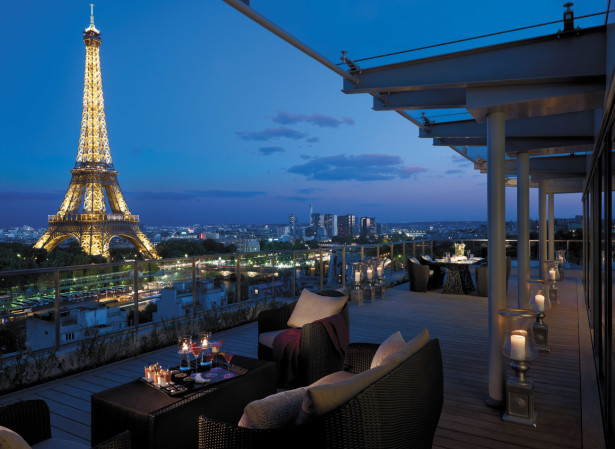 Nothing screams romance more than the city of love, Paris. The elegant hotel is situated in the heart of Paris where the enchantment begins. This striking palace built in 1869 was once the home of the grand-nephew of the French emperor, Napoleon Bonaparte. The luxurious hotel offers fine dining, exhilarating rooms and a breathtaking view of the Eiffel Tower. Can the romance get better? The hotel is surrounded with nearby attractions, museums and boutiques where you and your loved one can explore the city hand in hand.
#4 W Hotel – Barcelona, Spain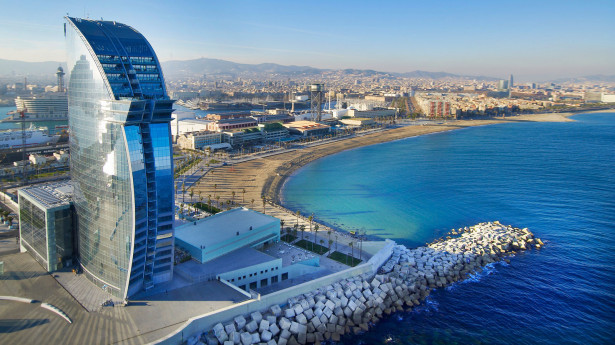 The W hotel is not your typical romantic getaway. If you're looking for a romantic stay that's a bit edgier with a lively ambiance, this hotel is right for you. The W hotel makes you feel like you're enjoying a stay on an island by the magical golden sand and blue beaches, but yet is just a walk away from the city life of Barcelona. Lovers will fall in love with modern gem features and inspiring views of the Mediterranean and especially the city. Couples can relax together in the famous Bliss spa and sip cocktails outside on the sultry terrace of the hotel. The hotel stands beside La Barceloneta boardwalk where you and your lover can take romantic walks and discover the seaside restaurants and other attractions.
#5 Astra Suites – Santorini, Greece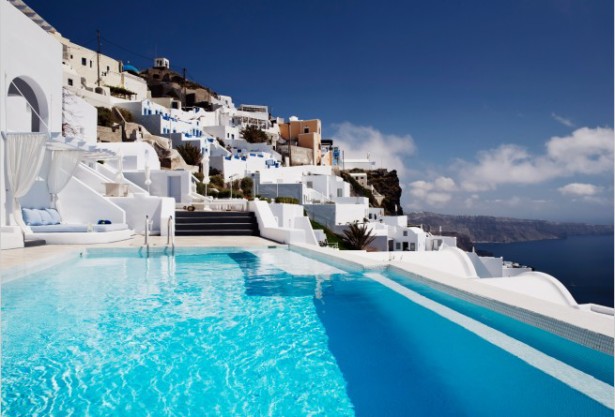 Perched on top of the most stunning volcanic cliff of Santorini is located the peaceful Astra Suites hotel. The hotel has breathtaking views of a sleeping volcano and the endless blue Aegan Sea. They have the absolute best location to enjoy the most beautiful sunsets right from the comfort of your own private balcony. Couples can relax in their luxurious suites, featuring private heated pools and jacuzzis for the ultimate in romance.
#6 Palais Namaskar – Morocco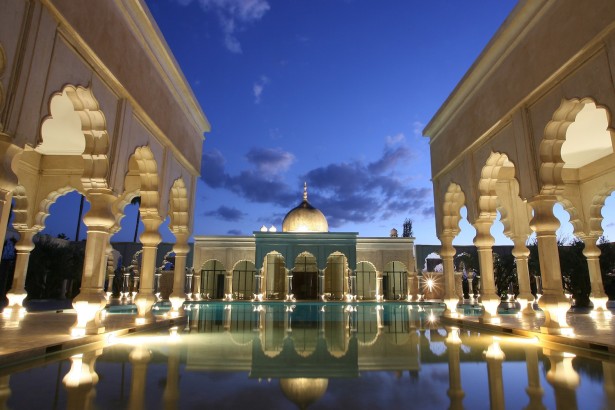 We're talking romance a whole other level at the Palais Namaskar in Morocco! The hotel lies within huge Balinese-inspired gardens and together forms an unspeakably, majestic and beautiful property. True to its name Namaskar, which means 'I welcome you with all my heart', this hotel delivers outstanding world-class service and strikes the perfect balance between tranquility and liveliness making your stay relaxing, enjoyable, magical and most importantly romantic.
#7 Hotel Danieli – Venice Italy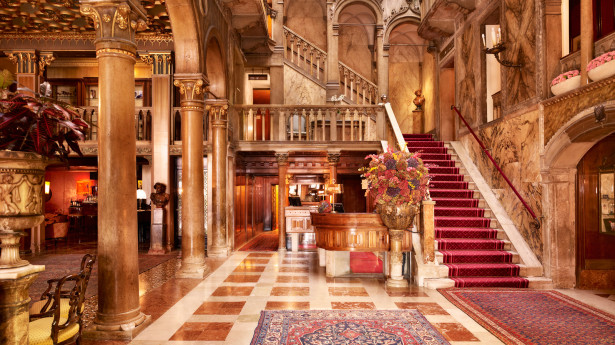 If I could stay in this hotel forever I certainly would! Hotel Danieli is located in one of the most distinguished locations in Venice, looking out over the lagoon with its myriad of islands. This luxurious hotel features hand-made Murano glass chandeliers, precious rugs, hand-carved marble columns and many original antique pieces. Hotel Danieli presents it's guests with an endless variety of luxuries that would make your romantic vacation in Venice seem like a fairytale.
#8 Relais Bourgondisch Cruyce – Bruges, Belgium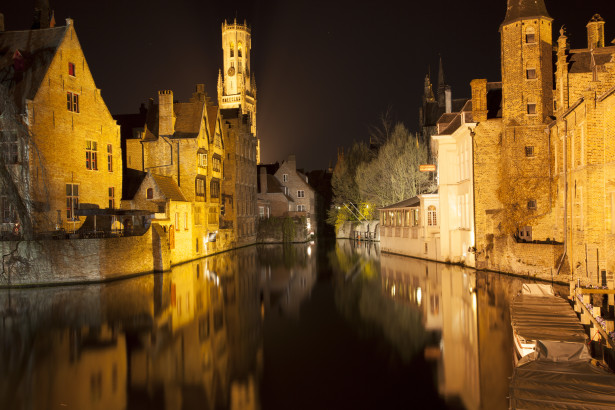 The Relais Bourgondisch Cruyce hotel is known for it's detail in an exquisite, romantic setting that guarantees and unforgettable stay. Allow yourself to be enchanted by this extraordinary waterfront residence noted by it's stained glass windows. Considered as one of Europe's most romantic hotels, it's beautifully decorated with precious antiques, exclusive objects of art and luxurious fabrics which create a spectacularly romantic atmosphere.
#9 The Chedi Club Tanah Gajah – Bali, Indonesia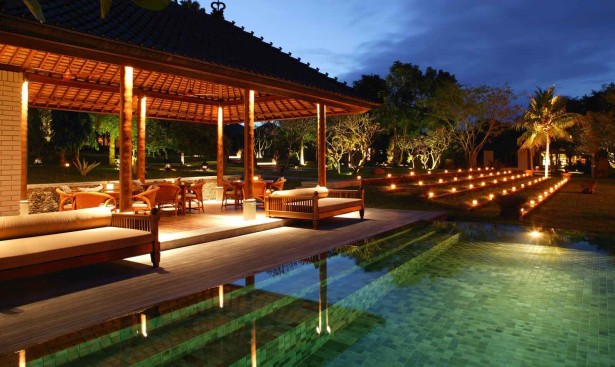 If paradise exists, it must be here. Surrounded by lush greenery and verdant rice fields we find The Chedi Club Tanah Gajah hotel, one of the finest retreats in the world. It includes exquisite accommodation, signature spa, diverse cuisine and attentive service in a setting where serenity is sublime.
#10 Toren Hotel – Amsterdam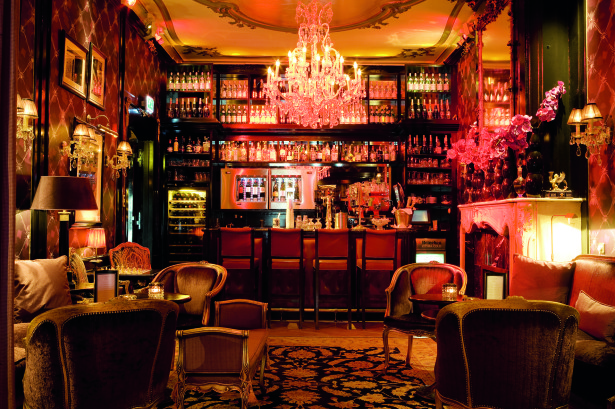 Treat you and your significant other to an unforgettable and romantic experience. It's chic, theatrical and warm! The Toren Hotel's elegantly designed interior surrounds you with a warm embrace.  That, combined with the beautiful surrounding of Amsterdam's central canal area creates a spectacular atmosphere and a safe haven for you to completely relax and enjoy your time with your partner.
By Nadine Hajjar