Readers,
Holy Wedding Bells Batman… I am a happy human!
I am THRILLED to write to all of you and give you (and Eligible Magazine) an exclusive inside scoop on MY WEDDING!
Lots to go over!
Let's do it!
FIRST! My Bachelor Party was in Chicago on Weds/Thursday 5/21-5/23 in Des Plaines, IL. My brother (the best man) and 19 friends of mine stayed in a massive house right on a golf-course. On weds night we played drinking games from 6:30pm-??? and it was the most fun I have ever had drinking. I truly, honestly, drank 40 beers… SO CRAZY!
Thursday morning 18 of us went golfing, then went to Wendy's. That afternoon we did a 3v3 Nerf gun tournament all over the 3 story house. It was MADNESS. We blasted "epic fight" music, and felt like little kids again.
Thursday night was undoubtedly the coolest thing anyone has ever done for me. Most people don't know this but, I wrote a book, a middle grade novel called Candlewood. My brother essentially set-up an entire Live Action Roll Playing Game for me at our old church. Complete with swords, minions, bow and arrows…he essentially reconstructed the world I created in the books…and it left my in tears it was so incredible!
Friday morning we headed back into the city (Chicago). We had our rehearsal dinner at Hubbard Inn, where Emily and I had our first date. It was a wonderful night with tear-jerking speeches, then a cocktail party for our out of town guests.
Emily and I ninja-ed (snuck out of the party) at about 10pm and got to be early!
Saturday morning the girls got ready (hair, make-up) and the guys went to a groomsman brunch plus my dad and Emily's Dad. We did our first look at 1:30pm (tears), and took pictures all over the city for about 3 hours. IT WAS A BLAST.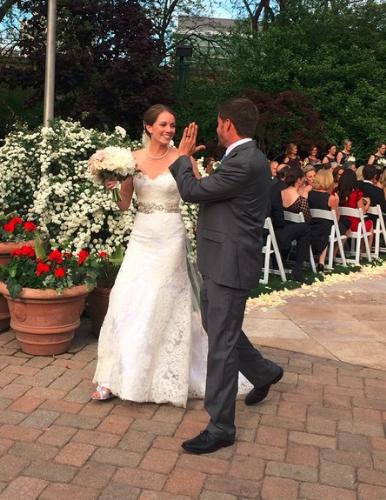 The ceremony was at Galleria Marchetti and it was friggin' GORGEOUS. Perfect weather, 230+ in attendance, my buddy Jon Gustaitis played the music for the ceremony and our pastor from our Church our here in California married us at 5:20pm. It was the best moment of my life (and I have had a A LOT of good ones in 30 years).
At the cocktail party instead of having a guest book (lame), Emily and I had a giant canvas with 5 different spray bottles of paint. One by one everyone we know and and love made a painting together, that Emily and I will have for the rest of our lives.
Some highlights of the reception were:
My brothers Best Man speech was the greatest speech I have ever heard…it made "I had a dream" look average. It brought the house down. EVERYONE had tears in their eyes. I have never felt so honored and loved in my life. Then Emily and I's first dance, the Daddy/Daughter dance and the Mother/Son were all super special. I asked Emily's Mom to dance the 2nd half with me as she is the mother of 4 girls and no boys.
THEN Emily, Claire (MOH), Steve and I did a dance to start the wedding off. We danced to Classic by MTKO and it jump started the wedding. People went nuts. At about 9:45 the groomsman and I prepared a Groomsman Dance (for Emily) that set the night on fire…and from that point on the dance floor was never less than packed… till 12am. I am not exaggerating. It was the best party I have ever been too.
Now that I am sitting at my desk back in L.A. the entire week seems like a dream. A perfectly vivid suspension of real-time mixed with more laughter and love than I ever thought possible in a finite period of time. All I did was smile for 5 days straight, and no smile was bigger than when I was standing across from Emily saying our vows. I tried to kiss her twice before I was finally "allowed too". She was the most beautiful bride I have ever seen.
We are off to Fiji for a week for the honeymoon, and I think I am in for even more smiles.
…and then a lifetime full of them, after that.
Thank you all for reading.
Much Love,