We have been warned for years that UV rays are extremely harmful, but are we listening to the warnings and taking proper precautions to protect our skin? Most people are aware of the dangers of UV ray exposure, but brush it off and set it on the back burner. Sun exposure is comparable to a love-hate relationship in the sense that it allows us to feel good and have beautiful, bronzed skin. The long-term effects however, outweigh the benefits of having bronzed skin as it creates extensive cellular damage, which results in pesky early wrinkling, age spots, damage to the epidermis layer (top layer of skin,) broken blood vessels, uneven skin tones, actinic keratosis, and of course the worst possible outcome- skin cancer.
Due to a decrease in the earths stratospheric ozone layer, a colourless gas that acts as the earth's sunscreen, UV rays have become much more powerful and detrimental to our health. This is why we need to start taking matters into our own hands and ensure SPF sunscreen is applied when going outside. Regardless if the sun is shining or not, UV rays can still be present during cloudy days and cause sunburns.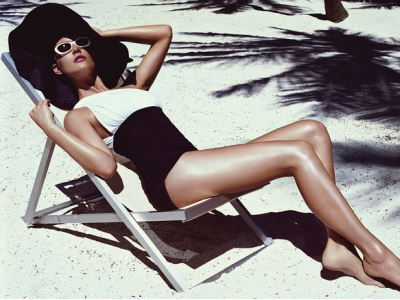 Take the time to properly ensure you are caring for your body. The little things count when it comes to living a long, healthy and prosperous life. Here are some tips on how to stay fabulous in the sun:
Use a 30+ SPF sunscreen. It is not recommended to use a higher SPF as most contain high contents of chemicals.
Do your research. Ensure you are using a sunscreen that protects against both UVA and UVB rays (Coppertone).
Constantly re-apply sunscreen. No sunscreen is truly 'water-resistant.'
Choose a sunscreen that is best suited for your lifestyle! There are various types of sunscreens on the market including: roll-on, spray-on, powder and traditional lotion.
Cover up. Wear a sunhat and light-coloured clothing when out in the sun for long periods of time.
Protect your eyes. Always wear sunglasses that block UV light.
Stay hydrated. Drink an abundance of water and ensure you are replacing your electrolytes.