Welcome back to another episode of love and excessive kissing ladies and gentlemen. It's the week before Hometowns on The Bachelorette, and things are getting just as serious, as they are dramatic. As Chris The Farmer says, it's time to "do or die." We've got some full on Romeo's coming out this week, sneaking out late at night for secret strolls, and stealing too many unappealing kisses. Did I mention unappealing? Just checking.
 The first date with Marcus was a test for Andi. While scoping out the city, eating chocolate and mussels, Andi needed to make sure Marcus was interested in sticking around- this time. He told Andi a while back he was thinking about leaving, but he surprised Andi this week by opening up about the abandonment issues in his family. He goes on to admit that his grandparents wanted the best for his mom, and says, "They beat it into her- literally. So that's kind of how my mom did it to us." Marcus, you are one strong man.
Three cheers for Nick who popped the question early! Did anyone else know Andi and Nick were already married? I'm a little upset I didn't get the invite, but perhaps they are still keeping it on the down-low seeing as Nick had to sneak out and ask for his own wife's room number. I mean I would totally forget my husband's room number of a hotel, too. In case anyone was curious; Andi is apparently Nick's wife of room 207. The oh-so-not-cute Romeo asked Andi for a midnight stroll and an intensive make out session. If I were Shakespeare, I would not be happy with this cast of Romeo. Passion is not the word to describe this couple. Sorry Andi.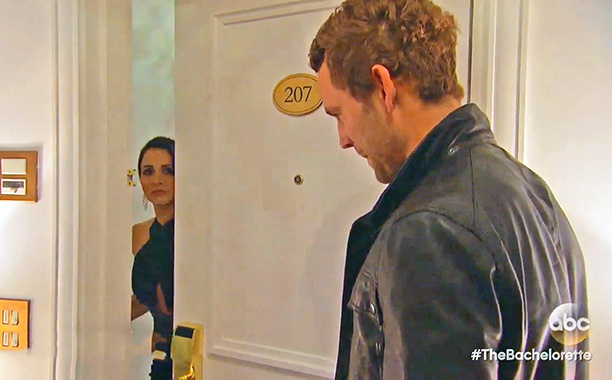 The second one-on-one date with Josh is Andi's opportunity to basically say, "Hey Josh, unless you tell me your falling in love with me, don't expect a rose this week." But of course, she does this in a planned out way, asking Josh, "What kind of questions [will your] family ask you?" Naturally, he provides Andi with the correct answer, "I'm going to tell them the truth, that I'm falling in love with you." Well played Andi, well played.
On the group date, Andi takes Nick (Ugh), Dylan, Brian and Chris to the ruins of a castle to announce "the most important rose of the entire season." I'm sorry; it was just my understanding that the last rose would be… the most important. But, seeing as Nick and Andi are already a married couple of room 207, it makes total sense that he would get the group date rose. Cue my prolonged confusion and more unwanted kissing. Oh, they also start talking about their children. Channel switch anyone?
Here comes the best part of the episode. The part where the boys play the game of "who's going to say the first word to Nick when he walks through the door?" I think there was a good 30 plus seconds that went by before Coach Brian finally took lead of the "Nick intervention."
Unfortunately, we say goodbye to Dylan and Brian, and gear up to watch hometowns next week. I can't wait to see more Nick replicas.