Welcome back to the Bachelorette Monday ladies and gents. We're getting close to the final rose, which also means we're closer to some serious heartbreaks. But don't fret, in this episode we are whisked away to the tropical paradise of the Dominican Republic to watch Andi slowly, and often, take off her beach cover-up in the comfort of our own homes. Someone pass the popcorn, I always love a good beach strip tease.
We know that Andi has rarely had a problem expressing when she thinks her man looks hawt. "Ugh, he's got a body on him," Andi says, as the camera slows down to emphasize Nick attempting to sensually take off his shirt for Andi when they arrive on their private island for a day. Does anyone else think that Nick was terrified of that helicopter ride? Don't worry Nick, it was all worth it when you got to watch Andi show off her sculpted Bachelorette beach bod, and experience some deep sea make outs. Perhaps all the Andi excitement explains Nick's inability to talk without choking on his words. Come on Nick, it's not that hard. Three words, eight letters…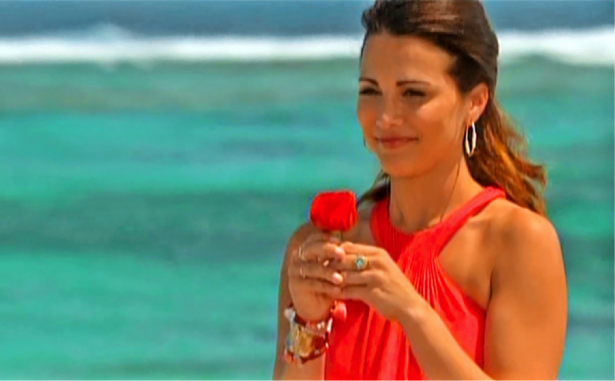 The following day, Andi and Josh meet in Santo Domingo, where Andi hopes that Josh will connect with his deeper emotions. Because simply falling in love just isn't good enough at this point in the game. Suddenly Josh says, "I've wanted to tell you I do love you." Andi, he loves you! "I've never said that to somebody before that I really meant it," he admits. Well isn't that just oh so reassuring. Good on you Josh. Way to connect with your deeper emotions.
Next we head to Danger Ranch, where we watch Andi miserably fail at riding a horse, and Chris secretly hope there was a little more farmer in the not-so-farm-girl.
Unfortunately, this isn't Chris' only letdown, because Andi confesses that she just doesn't see a future with the farm boy, letting him go before the rose ceremony. Better to send him off and crush his Fantasy Suite dreams early, right? Right.