By: Mark Hendricks
Q: I love running, but feel like I could be getting more of my workout. Do you have any recommendations?
A: A balanced approach is key to getting the most for your running efforts. At Equinox, we recently unveiled a new program called Precision Running, a treadmill training workout based on a unique method of interval training. Known as the Balanced Interval Training Experience, or B.I.T.E., the method is utilized to train runners of all abilities to Run Right, Hurt less, & Burn More.
Interval running has long been considered an athlete's best tool for training for intensity and enduring strength. The BITE formula is designed to allow runners to accomplish more work over time. It has become widely accepted that high intensity interval training destroys the motherload of calories, but now with a balanced approach (B.I.T.E.) runners get that uncompromised burn, with less impact on the rest of the body. Basically toasting the fat, and cooling the joints.
The class consists of distinct intervals, with the first two minutes of the class used to ramp up, the next 30-40 minutes running at intervals (alternating the speed and incline every few minutes), followed by a cool down and post-training advice.
If you want to try out this kind of running yourself before you try the class, try the following 30-minute treadmill workout created by Equinox Tier 4 Coach Giovanni Roselli: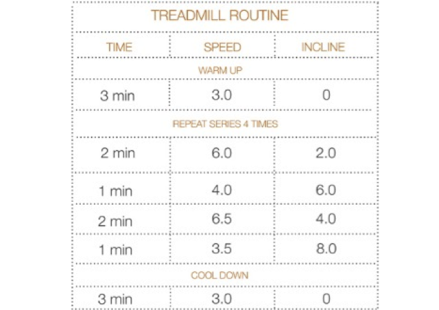 With an objective to build skill, speed and distance, it systematically builds running competence and confidence as well as endurance over time, which leads to increased ability and baseline fitness conditioning to do more work efficiently, all while minimizing physiological wear and tear and stress on the body.
As the goal of most runners is to create a sustainable and practical running workout for life, reducing stress and impact on their physical is of paramount concern. So whether it's on a treadmill in winter, in a group fitness class or on your own on a lakeside trail, creating a whole body experience that propels you forward safely and efficiently is the best way to build expertise and ensure body rocking confidence for runners of any level.
Mark Hendricks started his fitness career in 2000 when the 6:30am class he had been attending had no instructor. He happily stepped in and hasn't stopped teaching since. Creator of the PureStrength class format, Mark has presented for City Of Hope, ECA NYC, and starred in 2 CIA (Creative Instructor Aerobics) videos. Currently residing in Toronto Canada, Mark is the Regional Group Fitness Manager and Brand Ambassador for Equinox Fitness Clubs, as well as a monthly fitness expert on The Social.