You've been good. You're cooking at home frequently and side stepping the sodium, fat, and calories contained in many restaurant foods. But let's face it – you're sick of cutting those veggies and toiling away over the stove. You want to enjoy nights on the town with your newest prospect and you don't want your hard work to get tossed out the window. All those hot yoga classes and green juices can't go to waste just because you've started dating a social butterfly who loves dining out.
Making the right choices will help you eat healthy when eating out.
Is there really any harm in eating out, especially if you're planning on dancing the night away or having hot sex, which alone burns about 150 calories every 30 minutes? Well, the truth is, eating out can either make or break your efforts depending on what you choose from the menu and how often you do it.
Let me help you have guilt free nights – that is food-wise – cause who knows what might happen after the club.
How To Create "Healthy" Dishes From The Menu:
1) Think about selecting a few small dishes instead of one heavy meal. If you cobble together a fruit plate with a soup or salad, you have nothing to worry about. Make sure the soup is nothing overly creamy or heavy. The clearer the soup is, like miso or vegetable, the better. And, let your server know ahead of time that you don't want any bread brought to the table. When it's sitting in front of you, it's just way too tempting.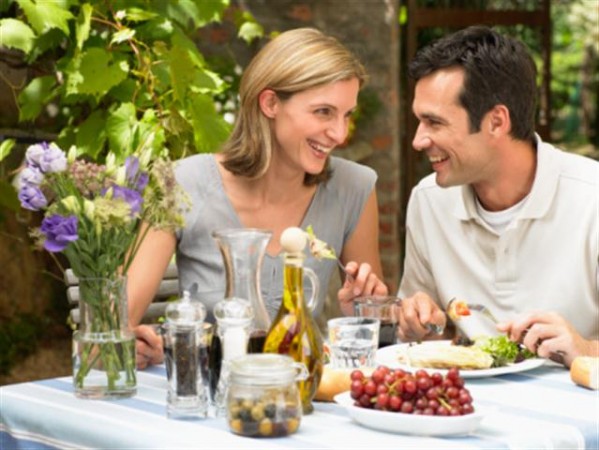 2) So you want to get a full meal? No problem. Opt for a small salad or soup to satiate your hunger before your dinner plate is delivered. You won't mindlessly scarf down all of your calorie-laden dinner, and you can go ahead and split your dinner portion in half. Ask for a to-go box and stow the leftovers in the car for lunch tomorrow.
3) If you insist on eating a dish like pasta that has options for sauces, choose marinara over alfredo. The cream-based sauces will contain more unhealthy fat and calories. The same goes for salads and sandwiches. Many people choose dishes like Caesar salad thinking they are eating healthy. If you call it a salad, it's got to be healthy, right? Wrong. If we assume that all foods containing lettuce are healthy, then I would put a lettuce leaf over a plate of brownies and engorge myself on dessert. Caesar salad dressing is one of the worst things you could choose – lettuce has little sustenance, Parmesan isn't the greatest, and croutons are fried pieces of bread. Take into account every ingredient since they all add up in the end. One measly Caesar salad can add 500 calories to your meal.
4) Craving a sandwich? Go ahead and order one, but stay away from processed meat, cheese, and again, those creamy sauces. Opt for grilled chicken, fish or mixed veggies. I recommend removing one of the bread slices and eating the sandwich with a fork and knife. You'll cut down on carbs and fill up on protein. Rarely do restaurants offer "healthy" bread, so you need to ditch as much bread as possible. You'll still be full and know that you ate a balanced meal.
5) If you have an option between grilled or fried, go for grilled. Choose fish and fowl over beef and pork. Chicken and fish are leaner and meaner.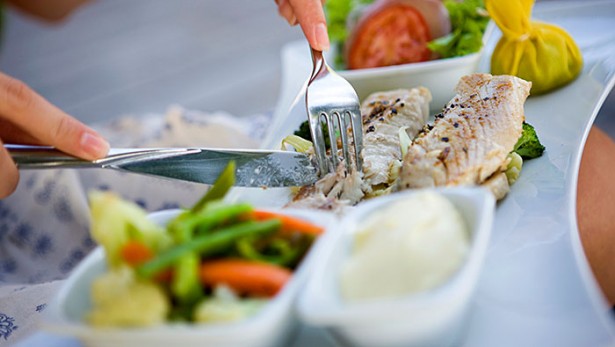 In the end, choose your restaurant carefully. If the menu is known for unholy creations like donut burgers (why, why would anyone eat this monstrosity is beyond me), skip this joint and choose one that you know has healthy menu options. It may require a bit of research, but I can bet it will be well worth it in the end.
I hope these tips help keep you from falling off the wagon of your carefully crafted diet. I'm a firm believer in having fun, especially on date night. Balance eating out with eating at home and learn to choose the right foods during a night on the town. It's part of maintaining a healthy lifestyle on the go. After all, no one can be expected to cook all the time.
Cheers to Making Healthy Choices!