Having time fitting a date into your busy lifestyle can be stressful!
Living in the constant hustle and bustle of the big city, can leave little room for singles to pencil in dates between workout schedules and social commitments. Experts have seen that singles have turned to "exer-dating"-working out while on a date, to solve the pressures of trying to fit one another into each other's busy schedule.
This new trend can work fabulously for those who are well into at least the third date. We all love to multitask, so in theory "exer-dating "can kill two birds with one stone. You get to spend time getting to know your date in their natural state, makeup free, wearing your sweats and also you get your own workout in. Working out together can also establish a stronger bond between the daters. You may not be a fan of your date seeing you all sweaty, red faced, and gasping for air during Wednesday night's Spin class but not to worry, you get to see them in their natural element. It's how you two react to the workout experience that will determine if you have met your opponent or your match. Rather than checking yourself out, pay attention to the cool kickboxing moves or downward dog poses, then practice some with your date to release that sexual tension.
"Exer-dating" allows men and women to really see if they like one another while they are in this natural casual element. "Au natural also has major sex appeal," says a Goodlife Fitness "exer-dater". "If a woman is into the workout experience she can easily fall into the keeper "category". An "exer-date" is a quick way to get to know someone better and see if you are going to have similar personalities. This experience can act as a tool to help screen out the good matches from the not so great ones.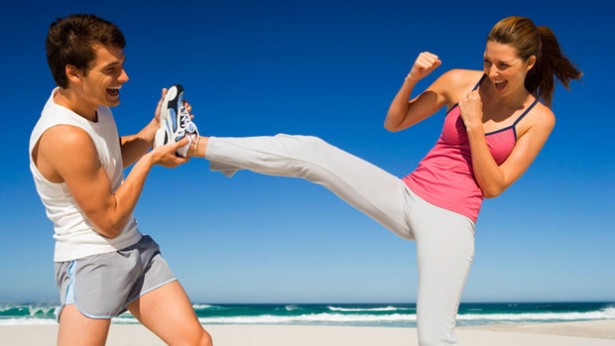 Working as a Matchmaker in Toronto, I often hear from clients that they are looking to meet a partner that is fit and in shape. It can be said those who schedule time to work out, show they are more self-aware, confident, and dedicated to maintaining a healthy lifestyle. Biking and running dates by the water are a great way to get to know each other while soaking up the sun. For those couples that love to jog, you feel like a team that is determined to get to the finish line and the gold medal is each others sweaty kiss. "Exer-dating" can also force you to try new workouts at different facilities to change up the experience. Bianca, a trainer at Studio Lagree in Toronto, describes the Lagree workout as "an extreme body toning, body shaking, sweaty and sexy workout that can be great for couples or new daters to try!"
After your "exer-date", you can be sure that the date's not over. Post workout and shower, you're still sporting that fitness glow, and have worked up an appetite to venture out for a bite. Rather then downing a glass of wine before a date to take the edge off, these "exer-dates" allow you to release endorphins that keep you feeling great and let YOU do the talking rather then the cocktails. Cheers to "exer-dates" that keep you staying fit and at the same time open you to the possibility of really connecting with someone in their natural element.