Picture this. It's Saturday evening and you and your hubby have just left a fancy restaurant. It's date night and it's long overdue. You've both been crazy busy at work and you haven't had a lot of time lately to nurture your relationship. Thankfully, tonight is all about the two of you. No distractions. No work emails to answer. And no "I'm too tired." It's all about the romance tonight ladies and gentlemen.
You've both spent the last three hours flirting with each other over dinner and now, all you can think about is drinking wine and having passionate sex by the fireplace.
As you get into the car, your cell phone rings and naturally, you answer. "Hey, how are you? That's awesome! How was it? Tell me all about it. I only have 15 minutes as we're just on our way home."
15 minutes goes by and you politely hang up. You don't want to waste any time. Let this evening of massages, kisses, and romance begin!
But, as you say good-bye, you notice an instant energy shift. Your sweetheart has gone from happy to gloomy in a matter of minutes. No more smiling. No more dirty talk. And definitely no more bedroom eyes.
"Hunnie, what's wrong?"
No response.
"Hunnie. Hello!! Did I say something? Why are you so quiet all of a sudden?"
Needless to say, your hubby wasn't impressed with you answering your cell phone, let alone having a 15 minute telephone conversation with your friend. It was date night and way to go, you just ruined it.
Since you've been dating for a while, you didn't think it was a big deal to answer your phone, right? It was a harmless phone call and you ended the call as soon as you pulled into the driveway. There shouldn't be anything wrong with a quick catch up call on the way home.
But, unfortunately, there is.
Mobile devices have taken over most people's lives and cell phones cause breakups.
They are always on us and they are always beeping, ringing, or vibrating – trying to get our attention. It's so natural to glance at your phone multiple times an hour or send a quick text, even when you're in the company of others.
Why does it cause problems in relationships?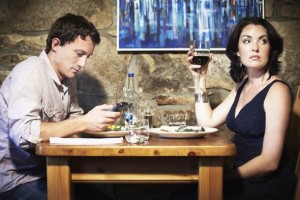 The truth is that mobile devices are strengthening online relationships and damaging personal relationships. Couples often complain that their partner spends too much time on their Smartphone and one partner usually feels neglected. Most people are guilty of checking their phone way too often. How would you feel if you were with someone who was constantly saying "hold on, just one sec, let me just send this."
There's a time and a place to use your device and date night is surely not the ideal time – unless you're taking a photo of the two of you. When you're with your special someone, keep your phone tucked away. No matter how tempting it may be to reach for your phone to check a text or see who's calling, think about how you may be making your hubby feel. They want to spend time with you. They want to have a conversation with you. And, they deserve for you to be present. If you have more important things to take care of, at the very least, apologize in advance and let them know it's an important call and you'll keep it short. Don't be rude and expect them to be okay with you taking personal calls or answering texts. Bottom line, you're not on a date with your phone. So heads high, smile, and be present for your lover.
Glad you've made it to the end of this article. Now stop reading and put your Smartphone away. It's time to go get some lovin'! After all, it's date night and you got a lotta making up to do.