This week on the Bachelor: Jimmy Kimmel and one too many make outs. Yep. I would say that sums up the entire episode. But really—that's the episode.
Welcome back to another week on the Bachelor with Chris, the farmer of the year. The episode began with Jimmy Kimmel in a dreamlike state waking the farmer from his beautifully chiseled sleep. But now we know not to startle poor Chris in his sleep, because his waking words are far from angelic…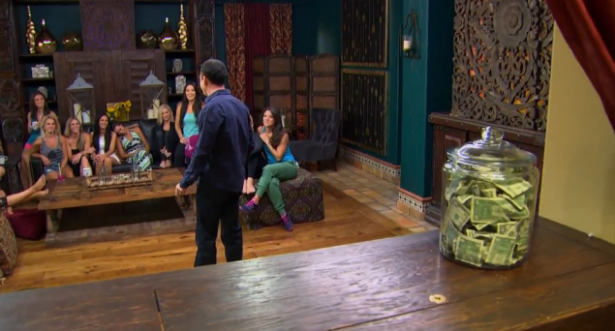 Kimmel started a new task for the house, the "Amazing Jar," into which everyone on the show had to deposit one dollar each time they said the word amazing. Let's just say the jar was filled to the top by the end of the episode. Way to go Kimmel, take their dollar bills and run for it. I like the way you think.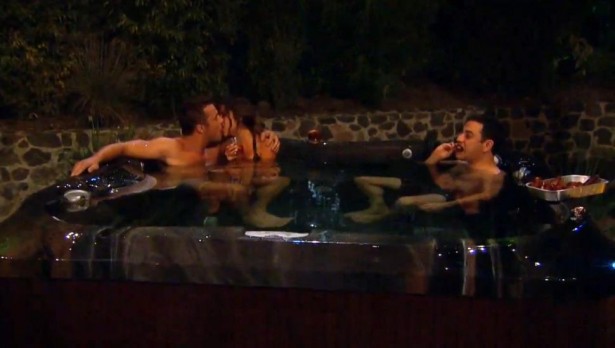 The first one-on-one date card went to Kaitlyn, where the couple took a romantic trip to Costco to buy supplies for their dinner date with Kimmel. Chris and Kaitlyn enjoyed a make out session over some Bourbon on the couch before they realized their third wheel would be showing up any minute. But by the end of their dinner, the two lovebirds felt so comfortable around their third wheel, that they didn't mind as he watched them devour each other's faces in the hot tub. Classic romantics.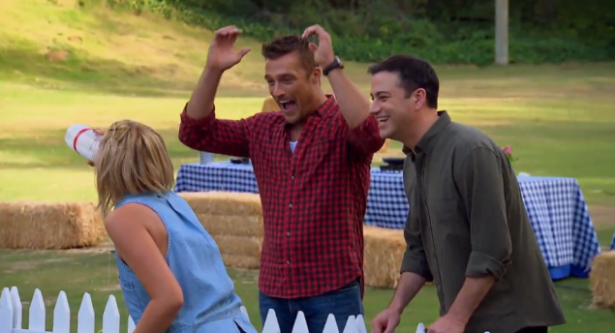 The group date was every city girls dream: play with corn, crack eggs, chase pigs and drink freshly squeezed goats milk. Watching this was painful, and now writing about it makes me feel just as sick. My hearts go out to all those women who had to play with manure to get to this man's heart. Seriously ladies, you're true heroes.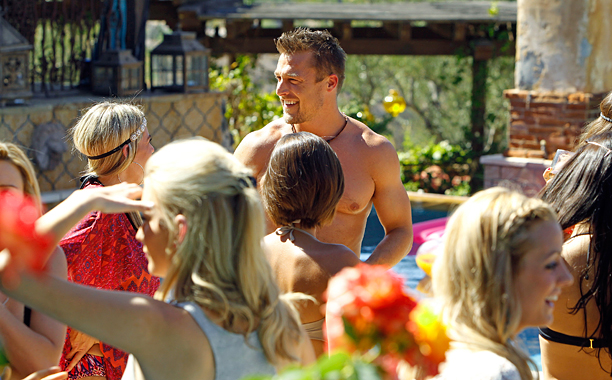 But it's time to get to the better half of the evening: Did someone say pool party? I love a good pool party, and here's why: What do you get when a drunken girl says to a semi-drunken guy, "Why do you kiss all the other girls?" Here's the answer: A semi-drunken guy who's slightly turned off by that particular question, so he goes and makes out with eight other girls. Problem solved. Way to go Chris! Once again, you keep things as classy as Jillian's blacked out bottom half. Seriously, does this girl own any pants?
At the end of the episode, Chris sent home Tracy, Trina and Amber. Sorry ladies. I guess you didn't cut Chris' favourite make out list.