Let's brush that cold off our shoulders and focus on the warm weather that's rolling in. I know you must be tired of having cold feet while putting on those winter boots to bear the weather. Well you can finally put them away till the next winter season comes rolling back in. It's that time of year to pull out those new spring shoes that you got last week because you crossed your fingers that winter is over. Let us introduce the "It" shoes for Spring 2015, I mean if the models can rock it on the runway so can we!
All White Sneakers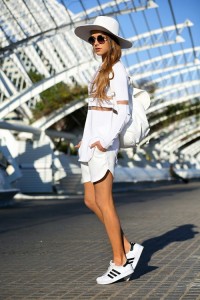 What is replacing the shade black this spring? The opposite shade, white. How else are you going to get that complete all white outfit if you are not pairing it with some comfortable white sneakers? The go to white shoe that is making its comeback from the 80's, is the Adidas all-star lace sneakers. Rocking a pair of sneakers with light denim or even a mini skirt can add that effortless chic look and prepare your day of running errands around town. Something to keep in mind, these shoes are going to have to be taken care. When it comes to anything white, there are stains that will follow.
Mules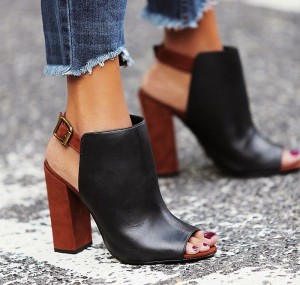 I'm sure you've seen it all over fashion week while models strut these shoes on the runway. They are the backless open toed heels called Mules. I mean, they are honestly a hit or miss on everyone's fashion taste. However, You will be surprised with how comfortable they actually are when the back of your foot is wild and free. Don't get me wrong; they are one hell of a sexy shoe. It's peaking out a touch of skin on the feet to add some tease. Pair these shoes with boyfriend jeans and a basic white tee to add some height and a feminine touch to the outfit.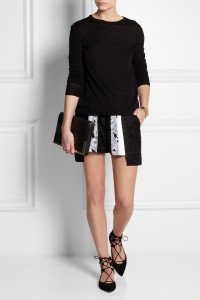 New and Improved Flats
Remember the time when flats looked just like a ballerina slipper? Well guess what? They revamped it up and have become a must have essential in your wardrobe. I'm sure you have seen the basic ballerina flats that we usually get it in the colours black or nude to be able to match all of your outfits. I always like to dress accordingly to make sure that my shoes are they center of attention of my outfit. It's honestly the one piece that ties the whole outfit together. The new and improved flats, that are in for the season, are the lace up pointed flats. They're not only comfortable and are able to get you from point A to point B in no time but they also add the perfect sophisticated touch to your spring and summer looks. Test them out; I'm sure you'll be in love in no time.