As the lights dimmed low I found myself standing there in 'aw'. The last hour had flown by so fast. I had a hard time comprehending what I had just seen. I had just witnessed a performance that combined the human and horse relationship in such a beautiful way, that I found myself falling in love with the experience, with the performers, and even more so with the horses.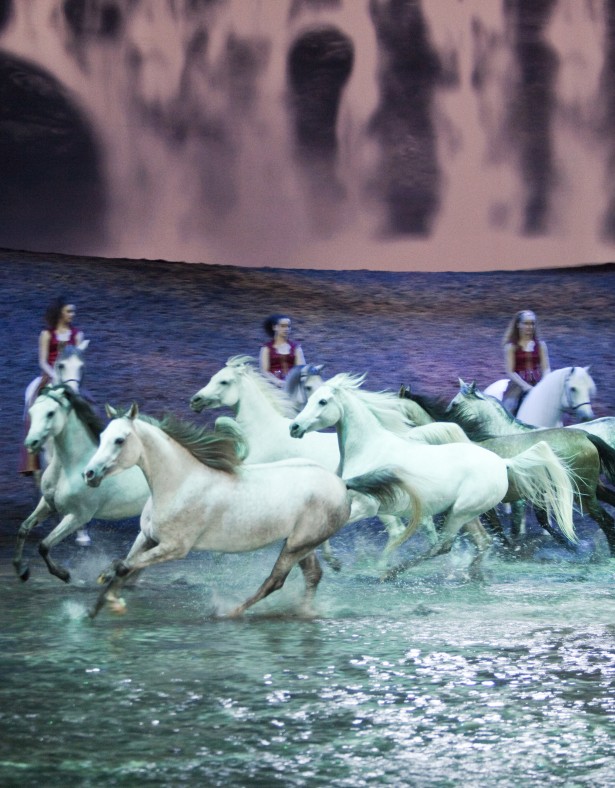 The meetings of two worlds- the relationship between horse and man, is what inspired Cavalia's creator Normand Latourelle for his show titled Odysseo. Odysseo is at the Toronto Port Lands for the second time since it began its tours. Odysseo opens Wednesday April 8th, 2015 and will stay until Sunday May 10th, 2015.  I was lucky enough to be able to participate in the media preshow of this miraculous marriage of performance art and live animals, and let me tell you… I am almost speechless to what I had seen.
Odysseo is a larger than life experience that all Torontonians should grab the chance to go see. Featuring 45 performers and 70 horses of 14 different breeds, you will find yourself constantly scanning the stage in hopes that you will not miss a thing.
Of the 63 horses in the stables, only 50 are used in the show at one time. A rotation plan for every scene in the show allows the horses to perform a variety of acts which keeps them interested, agile, and constantly learning new things. Over 80 percent of the horses in the stable can perform multiple disciplines, which allows for a lot of flexibility. This from Behind the Scenes at Cavalias Odysseo on Horse Canada Magazine.
Throughout Odysseo I found myself constantly whispering 'oh my gosh' as performers whipped past on horseback, either upside down, right side up or sideways. The elements of the show were beyond spectacular that it seemed each act was topping the last.
The second act titled Le Sédentaire featured equestrian rider and trainer Elise Verdoncq and twelve bareback horses. That's right twelve! Amazingly enough, these twelve horses pranced around under the big top in unison to the majestical music. The whole time all I could think was 'I could barely handle one horse on my own, how on earth is she managing twelve?'.  Later on, while talking to creator Normand Latourelle, he praised Elise, "…this is the first time ever she has had twelve horses free walking on stage with her, potentially the first time in performance history as well!".  This is simply just one element of Odysseo that makes it memorable and unique.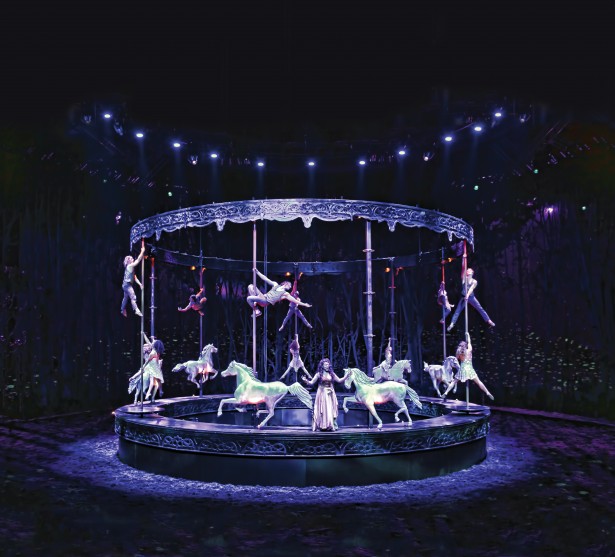 Other elements that continued to amaze, were an equestrian carousel that descends from the ceiling, which lead to an acrobatic and vocal performance from Claudia Paganelli and varying other artists, that will put you in a dream like state. And the flooding of the stage with 300,000 liters of water to finishes off closing acts that had performers, riders and their horses splashing up a storm.
A particular talent that you should keep an eye out for is equestrian rider Amanda Orlowski. Orlowski is the only Torontonian performer who is touring with the Odysseo family.  Having been a part of the show since she was seventeen, Orlowski could not be more grateful for her lifestyle. Her connection and in sync movements with her horse, Bello, truly shows she was born to perform.
Nomrand Latourelle is a visionary with this masterpiece. He has truly created a performance that pushes the limits.  Entering the big top is like walking into a dreamland, a dreamland composed of amazing talents. Toronto is very lucky to have Odysseo visit for the second time since beginning its tours back in 2003.
"It's all about stretching the imagination!"- Norman Latourelle
Odysseo is truly a once in a lifetime experience that can turn into a once in a lifetime date idea or friends night out. An opportunity that everyone should seize!
I know I myself will probably not stop talking about the experience and will convince many of my friends and family to make the trip.
Currently I am still walking around gleefully amazed from what I had seen and I'll have to let you know when I get out of my dream-like state.
For all the lucky souls who get the chance to see the show, please comment below and share your own experience.