One of the fun things about finding the perfect summer wine is that there are so many affordable and delicious choices to taste through. For my money, and my love, I turn to young fresh white wines to cool us down on those hot, sunny days and humid, summer nights.
Where a lot of new-world wines feature heavy-handed versions of old-world favorites, I tend to stick to Europe when I'm looking for something refreshing.
Muscadet-Sèvre et Mains is the classic light white wine. It's perfect for aperitifs, seafood, starters, or a hot night. Made from the Melon de Bourgogne grape grown in Northwest France, Muscadet has a light aroma of nuts and yeast with a hint of saltiness, and a gentle sparkle on the palate.
The sparkle is a sign that the wine is young, and freshly bottled direct from the fermentation lees. Muscadet with "Sur Lie" on the label confirms that the wine will be a light, fresh, and jubilant addition to your wine library.
Vinho Verde is a wine made in the tradition of Muscadet, in the far Western province of Minho, Portugal. The wine is not a 'green' wine as the name suggests, but rather a newly bottled wine, low in alcohol and rich in personality.
Vinho Verde can be a white wine or a rosé wine, and it usually features a hint of sparkle because the wine is bottled shortly after fermentation so that it can be enjoyed when it is young and fresh.
Albariño is Vinho Verde's sultry cousin. Jam-packed with ripe citrus, tree- and stone-fruit aromas and flavors, Albariño features the seductive side of many light white wines by being deceptively coy in color and unforgettably delicious.
Grown in Rίas Baixas, in Northwest Spain, Albariño has found fame around the globe as one of the finest food wines available. Like Riesling (below) it has a versatility and playfulness that will always leave you wanting more.
Chenin Blanc is my summer white wine of choice from Northern France. This aromatically seductive white wine is grown in the Loire River Valley.

When picked early during the harvest and fermented to (almost) dryness, Chenin features white stone fruits, whispers of herbs, and potentially a hint of sweetness. Not only does it pair with an array of delicious salads and seafood, it can be a real crowd-pleaser when it comes to bringing something unique to the party.
Sauvignon (Blanc) from Sancerre, in Northeast France, is the home of light, crisp, fruit-forward and herbaceous styles of one of the world's most sought-after white wines. Sancerre Sauvignon will change your mind about the potential flavor profiles of this versatile grape and refocus your attention on what makes France the home of this international grape. Most producers bottle Sauvignon when it is still young and vibrant, so look for the most recent vintage. You'll be happy you did.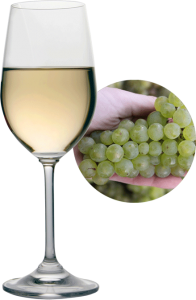 Riesling, Kabinett or Spatlese, from Germany is that one white wine that can be credited with changing "red wine drinkers" into white wine lovers. Riesling is one of the few regal white wine grapes that never gets boring.
When grown on the steep slopes that follow the Mosel River Valley, Riesling shows a unique flavor profile of white flowers, citrus, and apricot. Other growing areas include the Rheingau, Rhinehessen, and Pfalz. Kabinett is a drier style of Riesling, with spatlese (or halb-trocken, half-sweet) styles showing a hint of residual sugar, which softens the acidity in these wines. Pairings include everything from stinky (cows milk) cheese, to meats, foie gras, and Asian cuisine.
Whether you're meeting friends for a barbeque, or dining out on a warm night, think about the possibilities of these light wines. You don't have to go big to make an impression. The real key to pleasure, after all, is enticing the one you want to want a little more.
I look forward to your comments.