Your big day is coming up and you're panicking because you just woke up with the dreaded feeling of cold feet. Although society says it's perfectly normal to have doubts or pre-wedding jitters, experts say that you may be setting yourself up for divorce if you have strong feelings of uncertainty.
Let's dive right in and find out if your doubts are concerning. Should you walk down the aisle or should you run the other way?
Most couples date for at least a year before tying the knot and during this time, they fall in love, travel, laugh, and make memories. What many couples fail to do is discuss and establish their true compatibility as life partners. They don't always talk about the serious stuff, like kids, finances, and core values. Most people choose to simply "go with the flow" because they don't want to rock the boat in their perfect relationship. But, this may be one of the reasons for such a high divorce rate. Experts agree that communicating and discussing important issues before tying the knot can determine a couple's future together.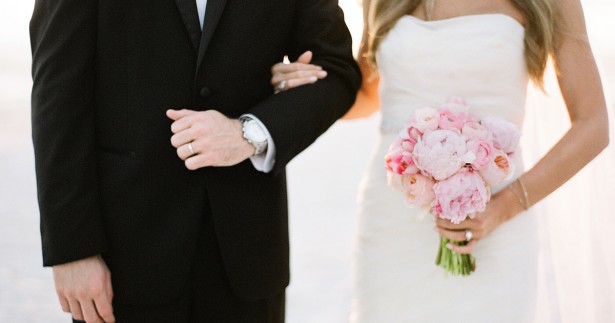 Now, you're not expected to have the same hobbies or sleep habits as your partner, however, you both need to be clear on your future vision, your family values, and your life goals. If you're having doubts and you're not sure about certain things, it's necessary to check in and figure it out before tying the knot.
RELATED: The Eligible Bride
The Journal of Family Psychology published an interesting study. Researchers reported that women who had doubts before getting married were 2.5 times more likely to divorce within four years than women who had no doubts. It appears that having cold feet before the big day is more problematic than once thought.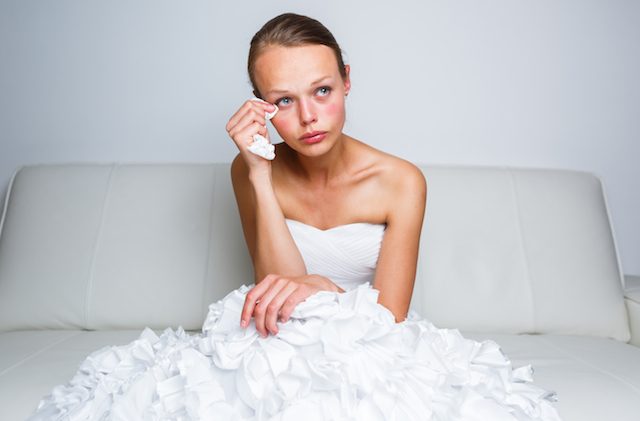 So how do you know if your feelings are perfectly normal or a sign that trouble lies ahead of you?
Here are three questions you must ask yourself before the wedding.
Do you like to do things together? If not, this isn't a good sign. If he likes golf and you like dancing, that's cool …. But you have to make sure there are at least a couple of things that the two of you enjoy doing together. If you don't enjoy spending time together before getting married, your relationship is probably doomed after the big day.
Do you share the same values? If not, have you communicated your concerns and established a happy compromise? If you don't share the same family values or religion, that's okay. However, you need to discuss this beforehand so there are no surprises later on.
Do you fear you won't be faithful? Another sign that your relationship may be headed in a gloomy direction. If you're not attracted to each other or are struggling with trust issues, it's a good idea to put your wedding plans on hold and work through these feelings. Experts say you need to communicate these feelings with your partner and seek relationship counseling before moving forward.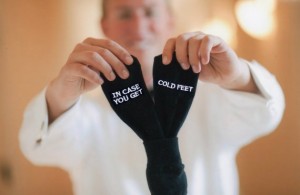 The best way to begin your future together is to plan together. Get aligned. Be open. And communicate. Communication with your fiancée will either make you stronger or it will show you a new direction. Either way, it will give you answers, release your doubts, and surely warm up your feet.
I'll end with one of my favourite quotes by best-selling self-help guru Wayne Dyer.
"If you believe it will work out, you'll see opportunities. If you believe it won't, you'll see obstacles."  –  W. Dyer