Some think that we are at our most vulnerable when we're in the nude. Others are never more comfortable when they're in their most "natural state." Either way, a lot of men wonder what their partners really think when they're naked in front of them. We all know women tend to worry about how they look (clothed and naked), but men also have their concerns about these things. Want to know what's inside her head? Check out this list of the top things women think about when they see you in the buff:
1. First of all, it's important to know that women don't get turned on by the naked body like men do. Men tend to be much more visual than women. Women will get turned on more by what's going on in her head and actual physical sensations than just the sight of your naked body. Don't take it personally because it really has nothing to do with how attractive she finds you.
2. Your scent – Even before you disrobe, your scent will leaving a lasting impression on you. If you smell great, it can be a fantastic aphrodisiac. If you smell bad, it can be a complete turn off. First check your breath. You don't want to have bad breath because your mouth is about to be all over her body. Next think about your body odor. Underarm odor and that odor between your legs both will play a role in whether she's turned on or turned off by you. A lot of guys will be tempted to douse themselves in their favorite cologne, but this isn't your best move. Your natural scent has pheromones, which are one of the things that establishes her attraction to you. If your natural scent is masked by too much cologne, she won't be able to assess this. It's best to go with a scented body wash, deodorant, and if you really like it, a very light spritz of cologne. Remember that some people have extremely sensitive noses, so it might be a good idea to ask her if she likes your cologne before buying a new bottle.
3. Your grooming habits – Not only will she expect you to be clean (obviously), but she is also likely checking out your man parts to see if you do any grooming. You don't need to join her at the salon to get a Brazilian bikini wax, but trimming your hair down there is probably a good idea and considerate, especially if she's giving you oral.
4. Your undies – Just like you certainly pay attention to what she has on in the lingerie department, she also notices and appreciates your underwear. Ask her if she likes boxers, briefs, or boxer briefs and even bring her along the next time you need a few new pairs.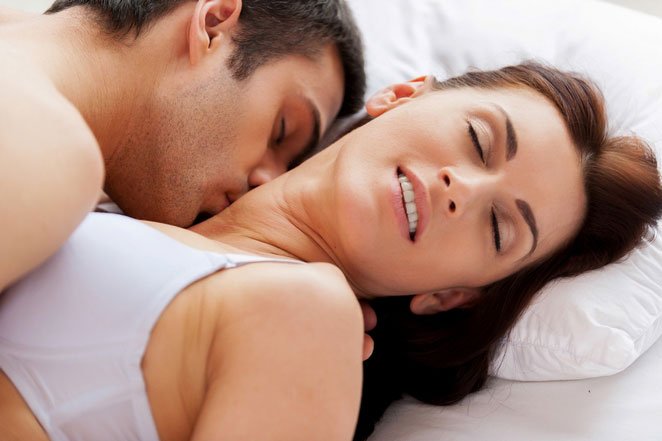 5. Your hands – This is probably the last thing you imagined she was looking at, but think about it for a minute. Your hands are all over her and even inside her. She's going to have a look and a feel to see if they're clean, soft and in good shape. Try using hand lotion every day to make your hands a little softer for her. To exfoliate them you can even throw a spoonful of sugar into your hands the next time you're soaping them up. A lot of women find a man's hands powerful and sexy. They don't have to be as soft as hers, but you should try to avoid hangnails, jagged fingernails that scratch, and callouses.
5. Your penis – Of course she's looking at your penis! She's checking out how hard you are and how big you are. Don't worry too much about this though. Not all women want a big penis, your size no matter what it is, needs to just be right for her. If you don't have an erection yet, just let her know that it's not because of her. Some women might get upset thinking that they're not turning you on if they can't see the physical result. Once you're there, looking is good, but feeling is even better. It might be a huge turn on for her to wrap her hand around your penis and feel just how much you want her.
6. How she looks – Many women, as much as they do pay attention to certain details of your body, are more focused on how they look than how you look. She might be looking for clues that you find her sexy and attractive. She might be worrying about some of her insecurities. Try to set her mind at ease by telling her how sexy she is and complimenting your favorite things about her when you're in bed together.
Looking for more hot sex tips? Click here
By Gabrielle Moore
Gabrielle Moore helps couples around the world improve their sex lives. She communicates daily with her more than 300,000 subscribers. Gabrielle is the author of several best-selling books, such as "The Female Orgasm Revealed", "Turn Her On Faster", "Hot Licks", and many others.