"Sex is like cooking – Everyone can do it but only some people make it delicious."
Sometimes it's more fun to be pinned up against the fridge than fumbling around inside it, I present you with a sizzling list of sexy recipes. Dish up one saucy course or go for the full menu if you've really got an appetite.
Prep work – Start early and enjoy long into the night.
Butter the chicken: "I always give my bird a generous butter massage before I put it in the oven", said the legendary Julia Child. Why? "I think the chicken likes it – and more importantly, I like to give it." Therefore, anything that you plan on, um, consuming later in the evening needs to be prepped, and this includes your partner, so massage her brains out. Pour some lotion or oil into your hands and rub her down, focusing on commonly ignored areas that feel especially tasty when touched: behind her ears, her hairline, the backs of her knees, the nape of her neck, and her feet. And don't forget – you deserve a buttering too!
Finger Foods
Good chefs aren't afraid to use their hands (to, you know, knead and stuff), so let your fingers (and arms and legs) do all the work.
RELATED: 8 Orgasmic Foods
Sliders
Ingredients: your hands, her lacy thong, a substantial amount of squeezing.
Facing each other, slowly guide your hands to her butt, over her jeans. Then slip them under the fabric, onto the bare skin of her behind. There's something so primally sexy about grabbing the ass. With lots of nerve endings, her cheeks are a very sensitive body part often overlooked in foreplay. Being man-handled can make for a take-me-now moment – but don't succumb just yet.
Dueling Dragons Sushi roll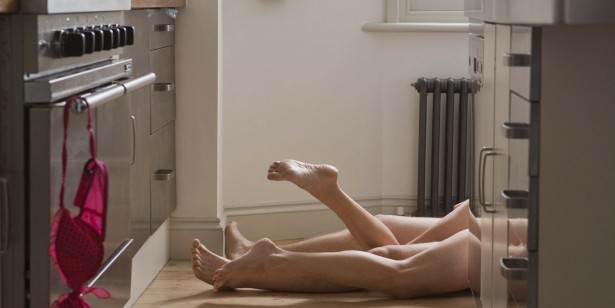 Ingredients: her limbs, your limbs, ample floor space, a shag rug
Pull her to the ground in a sexy but still physical kind of way. Once you're both down, kiss her like crazy – on her head, cheeks, and neck, rolling around on the floor like it's an R-rated gymnastics class. Encourage her to kiss you everywhere too. Roll and wrestle a little until you're both out of breath… or slightly injured. All that on-the-floor action will heighten the anticipation of what's to come. Because let's be real. No one fills up on sushi.
Raw Bar
Ingredients: your tongue, your hands, some pillows, her utter relaxation
Have her lie back, put some pillows under her for easier access and enjoy a few minutes of pre-dinner bliss focused around her oyster. And because we're still in the finger food category, use your hands along with your tongue. The dual sensation of your licking and touching (and tickling and rubbing and pressing) are especially indulgent.
Entrees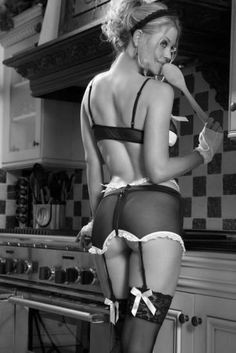 No more fooling around. Flip over the table and sink your teeth into your most empowered and uninhibited sexual self. (It's what's for dinner!)
Surf'n'Turf
Listen up. There's something called the coital alignment technique, and many sexperts say it's the most mutually arousing position of them all.
Ingredients: plenty of eye contact, the motion of the ocean
Imagine her body is a surfboard and you're lying on it, stomach-down. From there, move a few inches up her body so that your penis, which usually points up, is now pointing down. Once you're in position, start having sex that way, thrusting down and inward, then up and outward. This provides for a powerful physical connection plus major clitoral stimulation. Rock back and forth and enjoy riding the waves
The Whole Enchilada
Every good host has a go-to dinner party recipe that is bound to impress. Let this be yours.
Ingredients: flattering lighting, a yoga stretch or two (this one requires some flexibility)
Sit upright with your legs straight out in front and have her straddle you. As she lowers herself onto you, she should slide her knees out so that they're behind you and then lie back onto your outstretched legs. This gives you full access to all her spiciest parts: her clitoris, her breasts, her hips… the whole enchilada. Warning: you'll both be sweating during this move.
RELATED: The Modern Couple
Pasta Puttanesca

In Italian, puttanesca means slutty. That's not a bad thing – this bold pasta dish is one of the most popular plates in Italy. My twist on it is perfect for when your partner is feeling ready to let loose of her inner lady of the night.
Ingredients: her sexiest attitude, your full surrender
Have her take charge: keep your hands above your head and don't move them until she says so. Then have her lick and stroke up and down your body until she feels like getting on top. Once she's on you, caress her breasts, tummy and clitoris. Once you're done with this move, you'll both feel like cooked spaghetti – in a good way.
By Gabrielle Moore
Gabrielle Moore helps couples around the world improve their sex lives. She communicates daily with her more than 300,000 subscribers. Gabrielle is the author of several best-selling books, such as "The Female Orgasm Revealed", "Turn Her On Faster", "Hot Licks", and many others.