Episode 2 started off in typical January fashion. Someone made a resolution. Eager kisser Lace vowed to make a less intense impression on Ben, but viewers still got a huge deja vu when she proceeded to go on and on about the importance of eye contact. The confident first impression rose winner, Olivia, told cameras, "Let's just end the show now."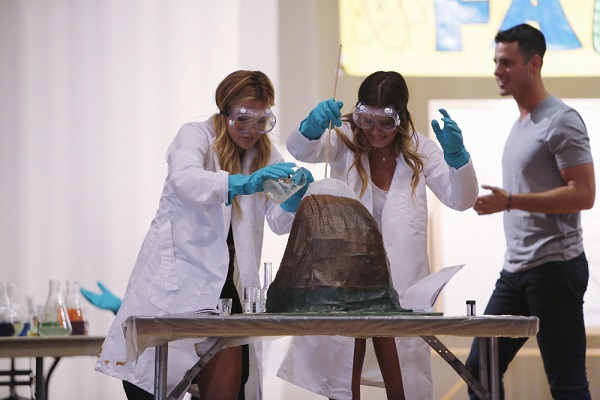 The first group date went back to high school. They attended science class, where pairs worked on those classic volcano experiments. The women were instructed (and I quote), "to make Ben's volcano explode." I am not taking the bait and commenting on that, but I will mention that the winning goopy green "lava" that spilled forth gained a lot of cheering. Worth noting on this date was ex-veteran Jubilee's disdain for lab partner Lace. "I will not murder her…but she may tactfully disappear."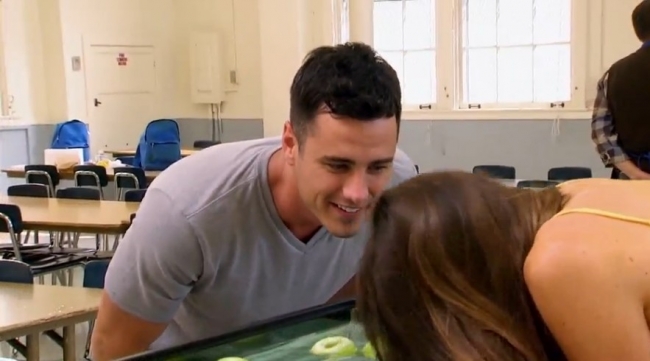 Next, the girls bobbed for apples and had to pass off the fruit to a partner using only their mouths. Many were quick to notice that Jackie was having trouble catching her apple. "Jackie is not great with her mouth…unfortunately." Yes, we're sure this makes you all very sad. In geography class, pairs were given the terrible task of  placing a cutout of Indiana on the map. Everyone was pretty spot on except for Becca and JoJo, who put the poor state sideways. This earned raised brows from Ben. Heading outside to the track, the final competition was a race of hurdles. Long-legged Mandi left lagging Amber in. the. dust.  An upset Amber told us it was painful "to be so close" to winning. You were not close. Mandi gleefully put on "my first tiara" and wheeled away with the Bachelor in a convertible as prom king and queen. #adultgoals.
Later, Becca and Ben played a private game of basketball. She made shooting hoops look easy. Ben held her hand when they paused to talk. Small business owner Jennifer got the first (willing) kiss out of Ben this season. Naturally, she proceeded to tell everyone. Lace went again to find Ben and apologize for reaming him out last episode. Ben's response to her was a bit lukewarm. "I appreciate the apology." There was more hand-holding, and just when Lace thought they were about to kiss…in popped Jubilee. That's one way to make Lace "tactfully disappear." Ben complimented Jubilee's smile and told us that she has a lot of "layers." Like an onion. She told him about her orphanage upbringing, and Ben responded well. "You overcame." They kissed. Ben headed to the roof with JoJo, saying he loved her "energy" and "bubbliness." They also kissed, and she later got that night's rose. After Kiss #3, it was apparent that the blushing Ben of night 1 was on his way out. Still, it's smart to narrow the field by figuring out where the chemistry lies.
This must have been his line of thought, because the next group date was all about the science of attraction. They headed to Love Lab Technologies, where scientists conducted retinal scanning.(Where's eye-lover Lace when you need her?) The women were shown a picture of our Bachelor next to a picture of past Bach hunk Sean Lowe. Dots indicated where their gazes fell first. The next experiment was cruelty at its peak; the women had to run on treadmills until they built up a sweat. A blindfolded Ben then came around to sniff out whose post-workout scent was most attractive. Olivia was happy to pass. Like something odd enough to land in the next 50 Shades, Ben then went off with each girl to a laboratory bed fitted with sensors. It literally measured the body chemistry between the pair. Samantha awkwardly urged Ben to kiss her. He declined. As it turns out, Ben had the lowest compatibility with Sam. Ouch. Unsurprisingly, Olivia got the highest, with 7.45. You can't argue with science, as she was quick to point out.
Caila's date was planned by Ice Cube and Kevin Hart of The Ride Along 2. Placing themselves in the duo's hands, Ben and Caila rode to the liquor store. Hart's running commentary in the backseat kept things interesting, as he was excited to orchestrate the ultimate "cheap date." Ice Cube was less sure, but the two delivered. Caila was bought roadside flowers ("Romantic moment!" narrated a clapping Hart), and the two ended up in a hot tub together. In a hot tub store, to be clear. Cheapness at its finest. Hart stood up naked in the water to finally give Ben and Caila some alone time. Caila called the date "unique" and they ended the night slow dancing to guitar-strumming Amos Lee.
Later, Amanda worried that Ben still didn't know she's a mom. After coming clean, Ben told us that he now has a real "sense" of her. He sealed that with a kiss and they made adorable rose barrettes for her daughters. Still, Olivia got the rose. This is even despite Olivia's weird habit of holding her mouth open at the end of every sentence, as though she's hoping to catch flies. Amanda cried. Olivia lurked in the shadows of a pillar while Ben gave Leah his coat as a shield against the (possibly non-existent) cold. Is there ever really a draft? The rose winner stole him away and there was more kissing. Although Ben claimed Lace had a "clean slate" after her apology, he looked pretty uninterested when she cornered  him to dish on what a dorky looking kid she was. Ben tried to make Lauren B feel special by giving her a picture of their first sit down chat together.
At the rose ceremony, LB pulled Ben aside as he said her name. She found it too hard to be there and went home. Ben took it in stride, telling the others he wants everyone to feel "empowered" while on the show. Three girls went home, including Prom Queen Mandi and Low Score Sam.
Tune in next week for more Bachelor drama, roses, and *eye contact.*