There are number of benefits you can get from a solid spin class that include progression at your own pace,  improved cardiovascular health and a sense of community through group fitness.  A new class from LES MILLS promises this and more in a short amount of time.
LES MILLS SPRINT: A 30-minute indoor cycle program built on the science of high-intensity interval training (HIIT).  During this HIIT workout, participants spend 20 minutes of the 30-minute class at 85 percent of maximum heart rate or higher. Benefits of LES MILLS SPRINT include:
     High calorie burn

     Improves cardio fitness

     Increases lean muscle mass

     Increases muscle strength and endurance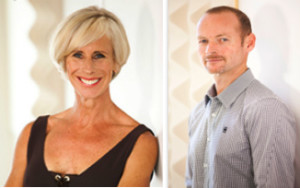 Bryce Hastings – Head of Research and Technical Advisor and Dr. Jackie Mills – Chief Creative Officer and Co-Program Director for BODYBALANCE™ offer their expertise when it comes to Les Mills programming and the benefits of shorter and stronger workouts.
Eligible Magazine: Les Mills is constantly pushing the envelope when it comes to creating new fitness programming. What drives you to create new and challenging classes?
BRYCE: Fitness trends and developments in exercise-science are our main external drivers. We also do a lot of our own research which produces many of the insights behind the development of our programs.
JACKIE: A combination of science and art – that's what drives the constant change. Our Program Directors are passionate about their programs and have a strong desire to create new and engaging workouts. We want people to enjoy their fitness experiences and this requires fresh material.  This desire to create, mixed with the research we do, is what drives our new and challenging classes.  

Eligible Magazine:What are people saying about LES MILLS SPRINT ™?


BRYCE and JACKIE: There is a lot of demand for the program, people hoping it is coming to their clubs and a lot of excitement to try it.  
Eligible Magazine: You no longer need an hour to achieve a great workout. Does Les Mills plan on creating more short workouts for those in a time crunch?
BRYCE: Yes. We recognize that people are time poor, and that people who are new to fitness can not always manage a whole hour. In saying that, we don't recommend only doing short workouts. There are some great benefits to a longer class.
JACKIE: Yes we are but we still want people to know that for the best results you need variety. Different styles of training have different results. Our new Cardio Peak Training category, for example, produces better results if it's done for more than 30 minutes.
Eligible Magazine: What is your favorite way to squeeze in a quick workout?
JACKIE: LES MILLS GRIT or LES MILLS SPRINT. They're both great high-intensity workouts. Hard but fast, just what you need for a quick workout.
For more information visit: https://www.youtube.com/watch?v=wxgPdIDkOO