Episode 1: Bachelor Babes Are Coming To Town
Just as summer is finally heating up, another ray of sunshine has entered our lives after too many days of darkness. That's right, the Bachelorette is back! In case you were living under a sad, lonely rock, you know that the lucky girl of this season is Jojo. As a quick recap, Jojo has had a seriously rough time in love. What's that saying about always the bridesmaid, never the bride? Well, that's the case here, except Jojo  has a bad record of being a final rose runner-up. It's past time for the tables to turn, and this girl finally has her own bouquet of roses to hand out. It was hard not to feel for Jojo last season after Ben infamously dropped the ball on math and told more than one girl he was in love with her. That "…but i found [love] with somebody else more" breakup  was the stuff of romantic nightmares. With the Bachelor season behind her though, Jojo has bounced back beautifully. The episode started with advice from past Bachelorettes Desiree, Ali and Kaitlyn. Here is where we see a slightly more bloodthirsty approach to dating than Ben's mentors pre-game advice. Jojo was advised to go for kisses from the get-go. If this strategy is what is needed to find a prince among frogs, then we must fully support this uh, difficult decision. Rumours flew before the season started that we were going to see a good looking pool of candidates, and the ABC gods delivered with some winning genes.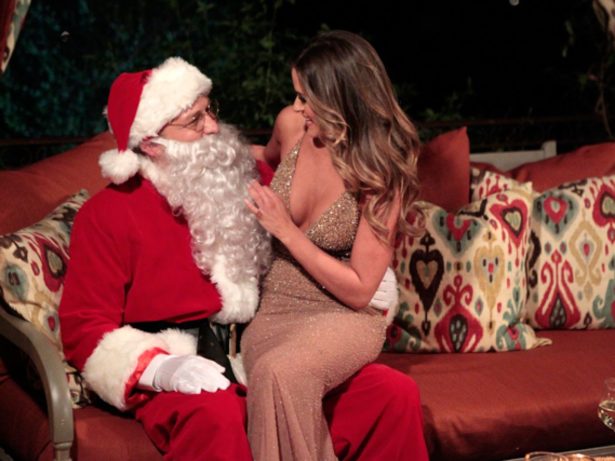 Of course, having 10/10s stepping out of the limo comes with an occasional compromise on personal taste. Enter: the Santa. Let's be honest and admit that this rare breed of contestant is the reason we tune in. It's like getting a front-row view of a Tinder date going up in glorious flames. Hidden in the cloak of white beard and classic jolly suit, aptly-named "Saint Nick" was clearly going for the innate sex appeal that comes with an eye-burning abundance of red and holiday nostalgia.The image of a grown woman sitting in this man's lap is either a.) slightly disturbing,  b.) the future inspiration for an awkward, How I  Met Your Father spinoff, or c) a truly brave act for a man to pull in the heat of summer. (The winning answer, by the way, is definitely d.) all of the above). But the costume party wasn't over. Technical Sales Rep Jonathan ditched the suit for a kilt and assured the Bachelorette that he is "Scottish below the waist." Wink wink, guys. I wonder what he means. Meanwhile, contestant Daniel was not pleased over the kilt getup. Maybe he worried that Jojo will be swept through a romantic time-travel vortex Outlander-style. Keeping with the unspoken heritage theme, Unemployed James Taylor tried to woo Jojo with some guitar-strumming. And yes, he is painfully aware that he shares a name with a more famous heartthrob musician.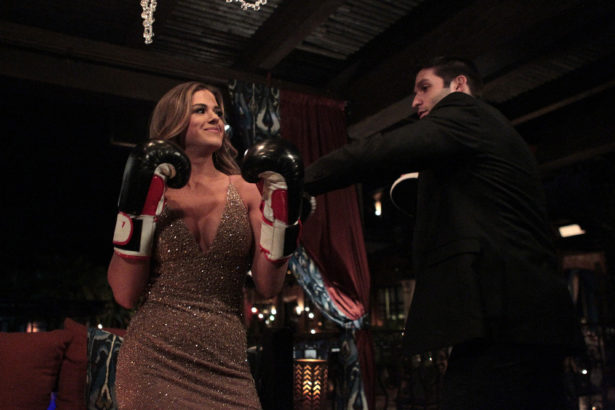 Quick side note: Daniel's "occupation" is "Canadian." Um…are we allowed to do that? Maple syrup = salary? More occupation awards go out to Hipster Brandon, who clearly must have liked Jojo before it was cool, and Former Competitive Swimmer Robby, whose rising career can probably be summed up by the way he lovingly cradles his wine bottle. Former Pro Quarterback Jordan is in the same camp as Robby, except that he clearly caught Jojo's eye from the get-go. Oh, and Boxing Club Owner James F. makes the list for reviving secret Fight Club fantasies. The other James is a Bachelor Superfan, which would be less appealing if we didn't live in the "Netflix and chill" era of dating. Seriously, this non-occupation of pro tv watcher could make for a winning relationship. U.S. Marine Alex packed serious bad boy tats and muscle in those arms as he pulled Jojo in for a hug. I vote ring fight with James F. for a rose win. Just a suggestion. (ABC could also throw puppy-eyed Firefighter Grant into the ring to heat things up). Christian of the broody past and motorcycle entrance is sure to stir some fantasies, Will had adorable skill at dropping cue cards accidentally-on-purpose, and Chase inexplicably wore a fake moustache. Maybe he moustache JoJo to marry him? DJ Wells classed things up with a cappella entourage.
Honourable but forgettable mentions go out to Commercial Banker Derek, Surfer/Skateboarder Ali of the more successful siblings, and Coley, whose occupation eludes my memory as much as his name is likely to elude Jojo. Oh wait, Coley told a joke I think. More to come on these dark horse contestants and others. Maybe.
First impressions in the mansion? Jordan may be a former quarterback, he's currently the star player in this game. Will may have snagged an awkward first kiss, but it was definitely a far off second place to the kiss-chemistry Jojo had with Jordan. Chad dropped a cringe-worthy, 'you're not like other girls'-type compliment, which won him points for his "soft side." No! Run away, Jojo! #feminism. In standard Canadian fashion (not), Damn Daniel shed his clothes at the first opportunity and Nick S. crashed Jojo's confessional camera time. By now, we kind of expect a cameo contestant, but the arrival Jake Pavelka came with Jojo's comment that "he's like a brother to me." Not a good omen. We can rest easy though, because Jake just dropped by for a visit that was ultimately irrelevant. Unsurprisingly, MVP Jordan walked away with the First Impression Rose, and we said a notable goodbye to the walking Highlander fantasy.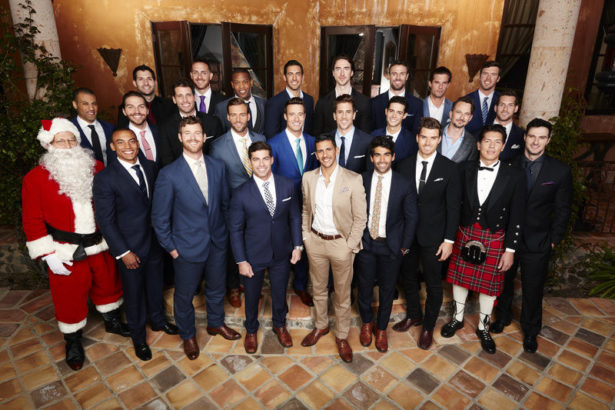 Episode 2: Where There's Smoke…
Episode 2 was on fire. Literally. ABC cranked up the heat by sending a flaming limo to the mansion. Luckily, suit-clad Jojo came to the rescue via firetruck and signlehandedly eliminated the flames. To absolutely no one's shock, the guys found that hot. Meanwhile, we can proudly announce that the season villain is hiding in the shadows no longer. Meet Chad. Or rather, Chiseled Chad of the perfect jawline and abs. Instagramable, with no filter needed. Unfortunately, it's worth weeping at the waste of this perfect male specimen, because everything goes downhill once he starts talking. After giving an awkward toast to the guys about how he was going to bag Jojo as his wife, it was clear that Chad's going to have a large, self-pinned target his back. Don't believe me? Chad's fate was sealed with a round of needless pullups with his luggage suspended from a weight belt. Of course, he made sure to do this in full view of the main mansion window. As usual, the window had no curtains or blinds in sight to ward off the impending drama brewing among a house full of bored men. This villain was dubbed by brilliant James S: "A Chad." Besides being "a gift from above," I'm sure we'll be able to figure out a more extensive definition for this rare breed as the season goes on. Score one for cattiness goes to James.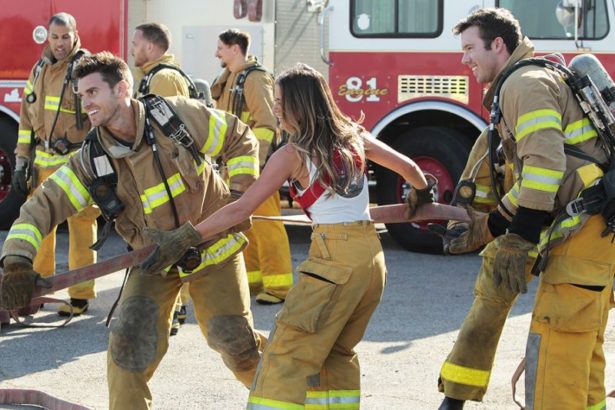 On the group date, the fire theme continued with rescue tasks beneath the sweltering heat. Breaking the stereotype, Jojo was no swooning damsel in distress. The swoon card went to poor Wells, who looked ready to faint from heat exhaustion. The worn down contestant was quick to chat up Jojo as he recovered. (Smooth, except there was not a single spark of chemistry detected between them). Back at the house, the guys were actually bonding. They may have just come up with a hit song. The lyrics, with James Taylor (again, not the famous one) strumming along on his guitar, were truly profound: "Jojo…where'd you go go?" Chad was not having it, but he kind of had a point when he noted they'd known Jojo "for less than a day." We hear you, Chad. Derek won the first one-on-one date: a truly adorable ride of "Would you rather?" conversation that was perfectly wrapped up with a kiss at the Golden Gate Bridge. But a perfect first date wouldn't be complete without a painfully awkward trip down My Ex-Lover's Lane. Still, Derek got his rose. Considering Derek probably knew way too much about Jojo's recent celebrity ex, it's only fair he gets a free pass.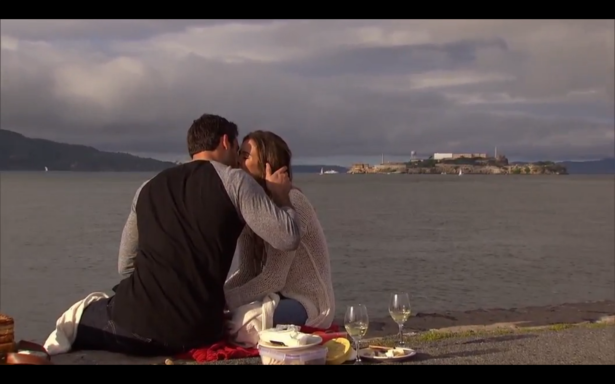 ABC must have been following some of The Bachelorette fan's fantasy league boards, because the next group date was all about beating the odds in a power ranking. The men were sent to ESPN headquarters, where Jojo played sportcaster. The following spectacle had it all: bad touchdown dance moves right up there to Hotline Bling standards, and even some moves that appeared inspired by Gangnam Style. Between those dances and the earlier guitar playing, the castoff guys may as well form a Bachelor Boyz band. Let's not lie to ourselves—we'd all pay to see that in concert. Just in case we forgot about the Chad for a minute, he swooped in to sweep Jojo off her feet. Okay, that was kind of hot…and then he called her "naggy." Moment over. Over dinner, we finally found research material worth noting to expand "A Chad's" definition— n. devourer of all things edible in sight. If you didn't see the episode, you may think this must be an exaggeration, but it really isn't. While we were all worrying over Wells' dehydration earlier, apparently we should have worried more about Chad's survival-for-winter hunger mode. Cattiness point #2 went to Firefighter Grant's epic confessional: "Chad has taken the term meathead to an unparalleled level."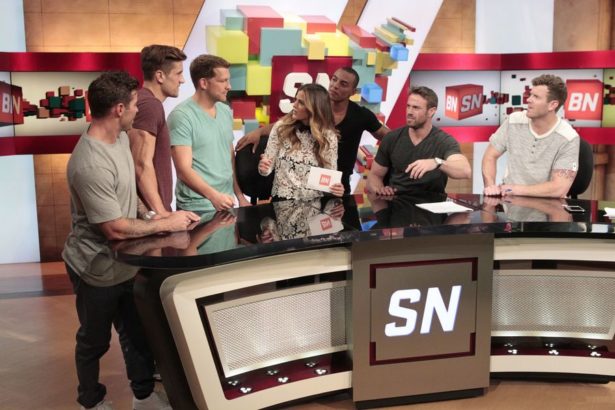 But the best part of the night was the "fight" between Chad and Alex. "Fight" goes in quotations because is was more like a competition of words. Verbal punches of "bro" and "dude" were fired rapidly back and forth, but there were no physical punches in sight as unassuming (beautiful, beautiful) Ali looked on. At the rose ceremony, things were very somber…until we noticed Chad chomping away at a piece of meat. Jojo said goodbye to catty James, but hopefully his protogee Grant can carry on his legacy of sarcastic burns. Brandon (who?) and Will also went home. To pretty much no one's surprise, Chad is here to stay. Maybe his long-term strategy is to slowly weaken the other contestants by hoarding food resources?
We'll all have to tune in next week, Bachelorette Babes! With Chad in the picture, we can expect a full course buffet of drama soon to be dished out!