Leading a healthy lifestyle doesn't stop in the kitchen, there are several products that we use daily especially within our beauty regime that are filled
with toxins.  Most of our skincare essentials might be causing alignments you are completely unaware of.  For example many well-known talcum powders have been linked to several cases of cancer according the American Cancer Society.  There are also chemicals found in cosmetics that have been linked to future infertility issues for unborn children. 
"Researchers at Edinburgh University have shown that exposure to chemicals in the first 12 weeks in the womb can affect sperm production in manhood. Many of these products are routinely used by a majority of women." According to Natural News.com.
One of the most common beauty practices performed by women are botox injections. Botox also known as botulinum toxin type A, composed of the bacteria that causes botulism. The Botulinum toxin blocks nerve activity within the muscles that may cause temporary reduction of muscle activity.   There are have been some serious side effects linked to this procedure that include:
Unusual or severe muscle weakness (especially in a body area that was not injected with the medication);

Trouble breathing, talking, or swallowing;

Hoarse voice, drooping eyelids;

Loss of bladder control;

Eyelid swelling, crusting or drainage from your eyes, problems with vision;

Pain or burning when you urinate, little or no urinating; or

Chest pain, irregular heartbeats.
Determined to find a better solution to aging gracefully Eligible Magazine sought out a well-seasoned aesthetician to help women find a healthy alternative to fighting the signs of aging. Klara Chrzuszcz founder of Klara's Beauty Lab introduced Micro-needling a process that has become popular amongst her clientele.  Continue reading the interview below to learn more about Micro-needling and other ways you can rejuvenate your skin botox free!
For those that are looking for natural alternatives to botox why do you suggest micro-needling?
   I believe in long lasting rejuvenation that happens by safely stimulating and challenging the skin so that the healing and transformation can occur from the inside out. I suggest Micro-needling as an alternative to Botox and many other treatments for facial rejuvenation because it is a minimally invasive, non-surgical and non-ablative procedure that naturally induces collagen production, reduces fine lines and wrinkles, minimizes pores, diminishes scars and improves skin tone and texture. It is a great way to restore skin elasticity and thickness safely without many of the risks and longer downtimes associated with other procedures. In addition, it can be performed on all areas of the face, neck and body and repeated accordingly for maximum results.
What are the side effects from this treatment?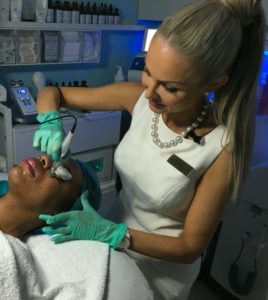 I can fully customize the treatment according to each individual client. So depending on the intensity of the treatment and the depth of penetration of the needles, some of the side effects may include redness and inflammation that may last up to 48 hours, much like a sunburn. Generally, the inflammatory reaction of the skin is overall usually short and fades significantly within a couple of days, depending on each individual.
Who would not be a good candidate for micro-needling?
Because it is a fairly safe procedure, it is well tolerated and well accepted by most. There is a reduced risk of hyperpigmentation and scarring so it is very safe on ethnic or dark skin tones.
How many treatments are required or suggested in order to see results?
  It really depends on each individual's skin condition and most of my clients can see results in
just one session, however, for the best results I would recommend a series of at least  3-6 treatments every three/ four weeks. Again, it is very individual.
Although there are various skin needling devices available, the one I use for this treatment is currently the best on the market and of the latest technology, German made, with a much higher performance, speed and precision. It is approximately five times faster than the device being used by most of the other providers/practitioners. Therefore, my clients can have better and faster results that can be achieved in shorter and fewer sessions.
How does this help produce more collagen in the skin?
  Micro-needling therapy is actually also referred as collagen induction therapy. It involves the use of a micro-needling device to create controlled skin injury. As each fine needle punctures the skin, it creates a channel or micro-wound stimulating skin cell regeneration. The controlled injury triggers the body to fill these micro-wounds by producing new collagen and elastin in the papillary dermis. In addition, new capillaries are formed. This neovascularization and neocollagenesis following treatment leads to reduction of scars and skin rejuvenation, i.e., improved skin texture, firmness and hydration. Through the channels we can also input transdermal delivery cocktails of active ingredients to address certain concern of the skin. I myself create such a cocktail for every client, working on the best quality transdermals in the world.
What are other ways to boost collagen in the skin?
Prevention is still the best remedy. So the first step is to try to prevent collagen degradation and remember to avoid sun exposure and always wear sunscreen. Having good sleep habits and keeping your skin hydrated and moisturized also helps.
Vitamin C is crucial for collagen synthesis. It is as well a natural antioxidant that fights free radicals, which cause premature aging. So vitamin C applied topically and supplemented orally give a wonderful anti-aging booster to your skin, mean while strengthening your immune system, so your skin is stronger as well.
Overall love your skin as it takes care and protects you throughout whole your life. And yes, sometimes, like during Microneedling, you have to damage something to rebuild it even stronger and better!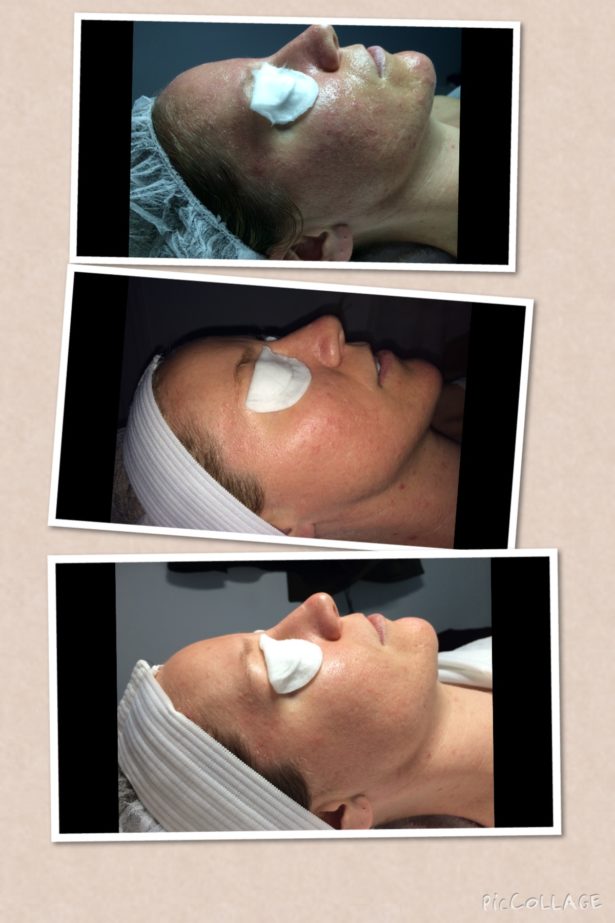 For more information on Klara's Beauty Lab visit: http://klarabeautylab.com/