It is impossible to have a conversation about handcrafted woodwork and not mention the phenomenal creativity of Canada's favorite handyman, Chris Palmer! 'Handcrafted by Chris Palmer' has become the trendiest sensation when it comes to creating custom DIY backyard projects. His work is not only creative but is environment-friendly too! Aligning with consumer and contractor values around sustainability, MicroPro Sienna is a versatile treated wood product that not only pleases the eye but is also convenient for backyard projects of all sizes and functions. Certified low VOC, MicroPro Sienna has the most environmental certifications than any pressure treated wood product on the market.
It goes without saying that when the grass is greener on your side, the neighbors may develop a tendency of nosiness. Eligible Magazine was fortunate to get a one-on-one interview with the man of the hour who has everyone covered on how to maintain our backyard's privacy!
Privacy Structures
Privacy structures are a must have if your home has a fairly larger backyard than a comparatively smaller lawn. Not only are privacy structures practical but they are an outdoor investment to create a fantastic sitting area. With fairy lights or lanterns strung across the 6×6 post and a canopy over the top can create the coziest spot in your home to curl up with a book on a summer evening!

Living Walls
Living walls can best be created by using cedar planks and using them like bamboos to either build a fence or use as a shade that'll maintain the rawness of the great outdoors and keep your backyard looking natural.

Privacy Screens
Privacy screens are ideal for backyard decks and definitely gives the seclusion you need from the neighbors. By creating a horizontal or woven pattern while crafting your privacy screen will aesthetically add to the lounge feel of your outdoor space.

Plants
Plants will low-key tackle your privacy issues while adding more greenery oriented visual appeal to your backyard space. The ideal way to achieve this tactic would be by planting tall grass in raised planters that'll not only serve for privacy but will also keep the cool summer air breezing its way in and out while creating a wilderness-like vibe!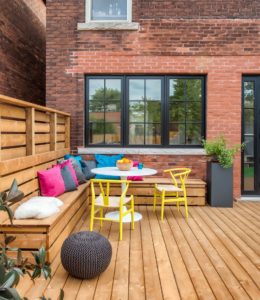 So what are you waiting for? Head out to your nearest lumber mill, load your truck with the raw material and let your inner craftsman revamp that dull backyard of yours for better summer days ahead!