Bachelor Chris Leroux is the third Canadian bachelor to look for love on the latest season of The Bachelor Canada on W Network. Gracing the scenes again with Chris and the eligible bachelorette hopefuls is South Africa's Two Oceans Wine –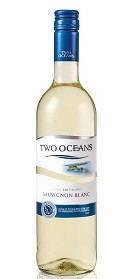 and possibly a lot of it! We know that the Bachelor/Bachelorette series can be an emotional roller coaster ride and shamelessly we can't get enough of it – I'll have a glass of Sauvignon Blanc please.
"Much like a love story, Two Oceans is the perfect combination of the cold Atlantic and the warm Indian oceans, coming together to create something exceptional," said Brenda Wylie, Country Manager, Distell Wine & Spirits (Canada). "Being part of The Bachelor franchise is such an exciting opportunity for Two Oceans. We are eagerly anticipating watching Chris' journey to find his perfect pairing unfold."
Fans of the show will have a chance to engage with Two Oceans as the brand will offer real-time social media content and engagement throughout the series. Fans are encouraged to follow @TwoOceansWineCA on Facebook, Twitter, Instagram, and Pinterest and use #BachelorCA in all related posts. Cheers!