The beginning of every new year is a time for personal resolutions. Maybe you want to exercise more or eat healthier. While individual resolutions are the norm, have you ever thought about making resolutions for yourself within your relationship? Below are some options.
Be Healthy
When in a relationship you may slip into some unhealthy habits, such as eating at restaurants too often or forgoing the gym. As a couple, you may want to examine your habits. If you find that you'd both like to be healthier you can make it a point to exercise together or build healthy activities into your relationship such as hiking. It is a great way to connect with nature as well as each other. Another option is cooking healthier foods to enjoy together several times a week.
Maintain Other Relationships
When falling in love you often want to spend a lot of time together.  While this is fun, it is also important to maintain other relationships with family and friends. The key people in your life want to see you. They deserve some of your time and attention too. They are the ones who helped you develop into the wonderful person you are!
RELATED: Fear In Relationships
You will likely find that maintaining successful relationships with other important people in your life actually helps your romantic relationship. As you spend time with others you love, your significant other will have time to do the same.  In addition, time apart gives you a chance to miss each other. You will also have new experiences to share with each other.
Maintain Individual Interests
Who you are as a person is what attracted your significant other to begin with. It is essential to your overall well-being and your relationship to be you. This includes maintaining some of your individual interests. Continue doing the things you enjoy. They are a part of what makes you unique. Maybe your significant other will become intrigued and want to learn about one of your interests. Either way, you are taking the time to do something you enjoy. When you spend time on your own interests you are happier and more fun to be around.
RELATED: Give Your Relationship The Gift Of Self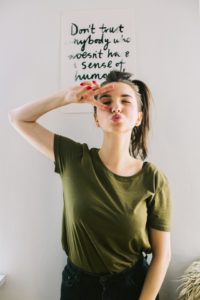 Let Yourself Shine
It is easy to get caught up in your significant other's opinion of you, especially in the early stages of a relationship. You want to present the best version of yourself to make a good impression. While a little of that is OK, make sure you're being the real you. Simply relax and be open. This will let your partner in and bring the two of you closer.
If you are interested in making some relationship resolutions this year, it is important to talk to your partner. Maybe they will want to join you and you can make the relationship resolutions together. If not, you can make some personal resolutions that will improve your relationship due to the happiness they bring you. A happy you is a great way to have a happy and meaningful relationship.