We've all had those mornings. You know … those mornings you catch a glimpse of the time and there's a couple more minutes left until you MUST get out of bed (thank god).
Fast forward "a couple minutes" – you catch another glimpse of the time and bolt out of bed.
Cue the horror music.
You're now a victim of the one snooze too many and scrambling to get out the door.
Well, going to bed earlier is the obvious solution to oversleeping. Say, we manage to get ourselves tucked in by a reasonable hour the night before, but actually falling asleep is another story. It's 2018 and distractions are plentiful.
Perhaps, you're running scenarios through your head of why you didn't get a text back. Or maybe, you haven't hit quota yet on the number of cute puppies you need to check out on Instagram (this hits pretty close to home).
That said, oversleeping happens. Instead of thrusting yourself into a self-induced panic over getting ready in the morning, change up your routine by incorporating a few time-saving measures!
These 5 beauty shortcuts will help you catch a few extra Z's in the morning without compromising your attempt at looking effortlessly polished!
1. Buy an Alarm Clock
An alarm clock? But that's what my phone is for …
This might seem silly at first. But trust me, it will pay off. Once you've decided to call it a night, leave your phone in another room. There'll be no distractions keeping you up and you won't waste any time in the morning incessantly scrolling through feeds to see what you've missed.
Another bonus: absence makes the heart grow fonder. You'll have a stronger incentive to physically get up in the morning so you can get to your phone ASAP.
2. Exfoliate
Exfoliation is key in the quest for a naturally radiant glow. Exfoliating on a regular basis will remove dead skin cells from the skin's surface, as well as ridding our pores of the dirt and oil that accumulates over time.
It's advised to keep exfoliation treatments to a minimum. 1-2 times a week should suffice (anything more would do more damage than good).
That said, a number of cleansers contain mild exfoliation properties which are gentler and more suitable for consistent use. These cleansers are cost-effective and still work wonders in restoring brightness to the skin.
A gentle exfoliation in the morning will rid your skin of impurities or dry flakes. Your makeup application will run 10 times smoother when you've got a clean canvas to work on.
SHOP ST. IVES Radiant Skin Pink Lemon and Mandarin Orange Face Scrub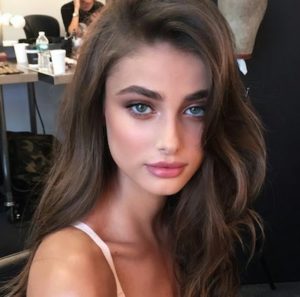 3. Brow Gel
Unless you're one of those lucky ladies that have been blessed with perfect arches, filling in your brows in the morning tends to kill a bit of time.
To score yourself a few extra minutes in the morning, a tinted brow gel will do the trick.
Taming your brows with a tinted brow gel will add definition while giving them a fuller appearance.
RELATED: 5 Amazing Beauty Products
4. Use Highlighter as Eyeshadow
Skip the eyeshadow altogether. In a circular motion, very gently use your fingers to apply your highlight over your entire lid. Make sure to focus more product on the spot directly below your brow bone and near your crease.
Voila! Your eyes will look more awake and a slight shimmer is the perfect complement to a fresh face.
5. Lip Liner + Lip Balm
When it comes to lip liners, MAC's lip pencil in the shade 'Whirl'  is a personal favorite. This dusty rose color is universally flattering for all skin tones.
Perfect for those days you're having trouble committing to a shade of lipstick or you're opting for a more subtle look.
Faintly line the border of your lips, applying more pressure and gentle strokes towards your cupid's bow and the center of your bottom lip (where we want more color).
Apply a nourishing lip balm with your fingers in a circular motion over the entire lip area. This will soften up the color and give your lips a glossy appearance, minus the stickiness of a gloss!