Welcoming Spring means two things; the beautiful warm weather is here with new spring shoe trends and no more hoarding our favourite shoes in the back of the closet because we are saving them from the dreadful salt stains we experience during winter. Shoes are an important factor for every wardrobe because shoes complete and polish every outfit. Finally, we can wear our favourite shoes without having to carry them around in our purse until we get to the office or taking the risk of them being ruined forever, there is really no worse feeling.
Here are the Top 5 Spring Shoe Trends you need to incorporate into your closet this season.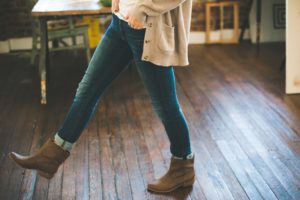 1. Low Heeled Boots
Remember last year when stilettos were all the rage? Well, this season your ankles will be thanking you because low square heeled booties are the new thing from ankle to knee length these are a great buy. Making your daily commute both stylish and comfortable. These look cute with leggings, a dress, or basically any outfit you have in your wardrobe.
2. Embellished Mules

Basically, these have been everywhere since the fall but this spring they are being revamped with some eye-catching trimmings. These are the perfect shoes if you like the feeling of flats but not the look. Plus, these are little more professional looking with the option of a square, pointed or rounded toe and the possibility of being slip-on or heeled. They come in all colours and multiple textiles from satin to leather. My favourite are the ones with added crystals or bows but you can find a pair with almost anything on it including feathers.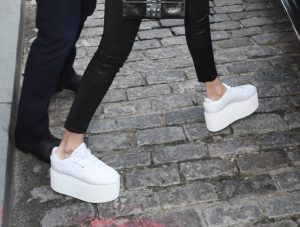 3. Jacked Up Sneakers
The season of the glam orthopedics!! Now moving away from the basic, plain sneaker this season they are toning up a notch. Think of your regular sneaker but with rhinestones, muted tones with a popular 90's theme. The sneaker trend is now transitioning from being a strictly physical activity shoe to a daily trendy shoe worn pretty much for anything with anything… Including skirts and dresses.
RELATED: Online Shopping Secrets
4. Transparency
We first saw this trend get real personal real fast when it began with the transparent bags of all shapes, sizes, and colours.  This spring following that trend you will see many types of shoes with the same transparent plastic adapting fashion movement. Anything from strappy heels, beach sandals, and boots of all lengths will be seen in stores. To give them some extra flare, look out for flower embellishments and graffiti writing to complete your outfit and really stand out.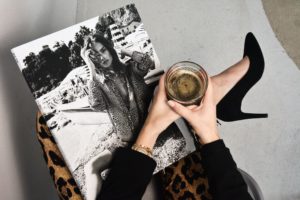 5. Pointy Toe Classic Pump

If you really like the chicness of a thin heel and need the extra height like me,  try a stiletto in a classic pump style WITH a pointed toe. This season the most popular styles are in a neutral tone like grey, black, and nude, making each pair not only professional looking but also super cute, so basically a win/win. The classic pointy-toe pump is cute with skinny jeans, a dress, or high-waisted dress pants.
Do you know what the best thing about all these spring shoe trends is?  You can find multiple pairs that accommodate you and your wardrobe as they are all versatile to complete any outfit you wear with ultimate chicness and comfort.