You strive to be fit for the summer approaching, but the only time you ever want to work out is getting a few minutes of jogging into your day. We've all been there. You take a lap around your neighborhood or run on the treadmill for a 30-minute sweat sesh, but that's all the time you have, or meh, you're just not in the mood. Well to all of you who just said, "yes, that is totally me", don't worry as there are so many benefits to just doing cardio! Yes, that's right, not only can cardio be more fun than other workout's, but you get a good rush that is packed with loads of benefits for your health and your body!
For starters, cardio is great for weight loss! It gets your heart rate up and increases blood circulation in the body. The goal for cardio is to challenge your heart to work hard, this is what helps you get stronger muscles. If you can keep up a consistent cardio schedule, then you are bound to shed a few pounds. Keep in mind that though cardio is good, you should always change up the type of cardio exercise you are performing, in other words: don't do the same thing every time.
Here are some good exercises to add to your cardio workout:

Biking
Riding a bike moves your legs and keeps your posture upright. You can always go for a nice stroll on a bike around your neighborhood, just for fun. You can even use it as a form of transportation if you feel like putting your car aside for the day.
The best way to burn fat with biking: Ride at an intense rate, meaning don't just do your casual stroll, but push yourself so you're going fast, you can even turn up the gears so you push harder to move. Keep the intensity high for a couple of minutes, then slow down again, and repeat.
This also works for stationary bikes.
Swimming
Swimming is a total body workout and it's fun! From the time you get in the water you're already working out, I like to call it "fighting gravity". The type of strokes you do make a difference, so be sure to incorporate different strokes into your exercise.
The best way to burn fat with swimming: Simply tread water. Do a few laps, back and forth to each end of the pool, then rest. It's good to rest in the deep end because you're almost forced to tread water, but make sure you know that you are able to grab onto something just in case you get tired.
RELATED: 7 Fitness Hacks
Jump Rope
It's not just a game for the playground, everybody can jump rope. It burns as many calories as jogging, and many fitness expert's claims that the jump rope is one of the best exercise equipment around. For starters: Jump ropes are cheap, you can take them anywhere, it improves your coordination, and it builds lots of strength.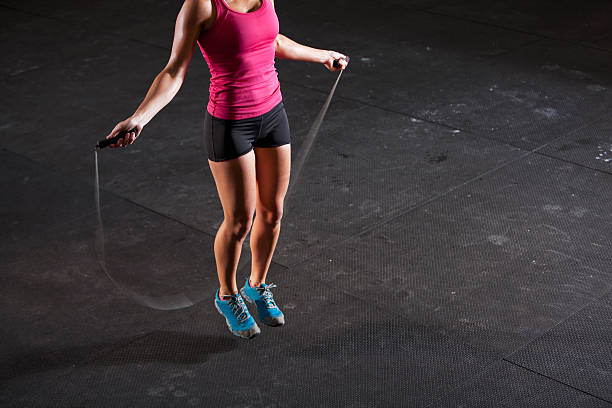 The best way to burn fat with jumping rope: Jump in intervals. The top method to target all of your muscles is to keep jumping at a consistent rate, taking rests in between to catch your breath. Jump for 20 reps, then rest for 20 seconds, and repeat. If you trip or mess up, don't worry, just continue on, after all, I did say your coordination will soon improve.
Figure out which cardio routine best suits you, everyone is different so not every workout will work for the same people. Are there any other cardio workouts that you find works for you? Let me know in the comments below!