Most women think that leggings are undoubtedly an every occasion piece of clothing. And they're not wrong! Leggings are so versatile and you can really use them for any occasion, from a casual day of running errands and traveling to a well-dressed evening out. Besides, a recent survey showed that men pay close attention to the ladies wearing a pair of leggings than a pair of jeans. Most men find leggings on girls pretty amazing and are fascinated with this new fashion trend.
You all know that leggings are very comfortable and convenient. Moreover, they are a suitable wear for women of all shapes and sizes. Leggings are considered a perfect wardrobe alternative on those days when sweats are not a good option and you can't even think of wearing slacks or jeans.
So, you know how easy and comfy leggings are, but you still have one key challenge when it comes to leggings, namely, how you can use them for every occasion without looking like you're going to a gym class every day? Here you can see 7 spicy ways on how to wear leggings for any occasion and look the part. See these cute outfit ideas with leggings, they'll definitely inspire you and help you find the right way to dress leggings.
1. Leggings Paired with a Long Plain Shirt and Boots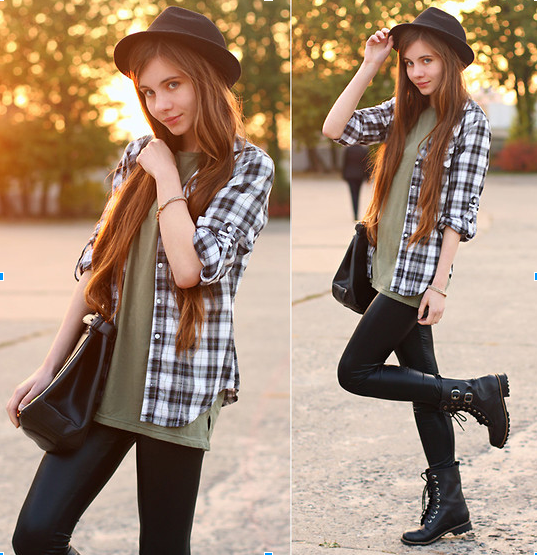 When you're looking for a casual outfit, you can match a pair of leggings with your favorite T-shirt and a long shirt. You can diverse this look and play up with the shirt, like button it up or leave it unbuttoned. A long plain shirt paired with black boots is a great combination for any casual event in your life. For an even more casual look, you can put on a hat.
2. Leggings with a Formal Shirt, Blazer and Heels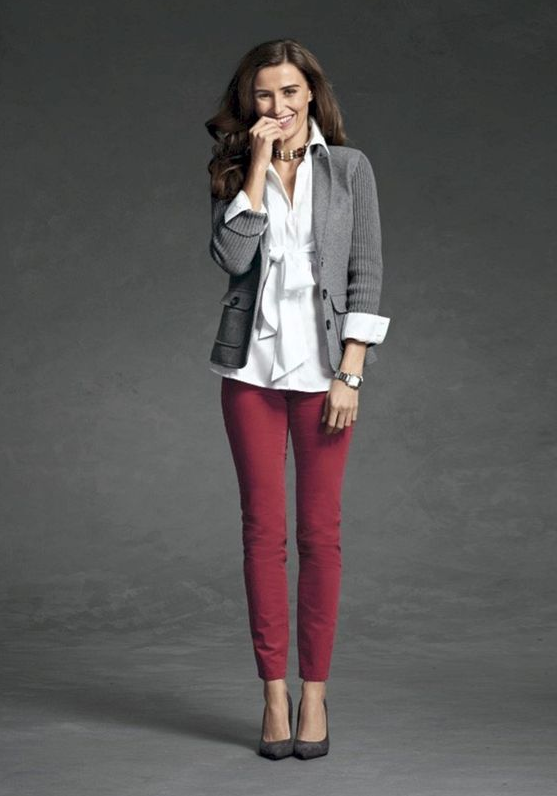 You know that leggings are appropriate in the workplace, just look at this maroon leggings outfit. It's perfectly suited to go to the office. Maroon leggings, a white shirt with tailored details and a blazer make you look professional and stylish. If you add some accessories and heels, you make your outfit look more elegant and even a bit dressy.
3. Leggings Combined with a Mini-Skirt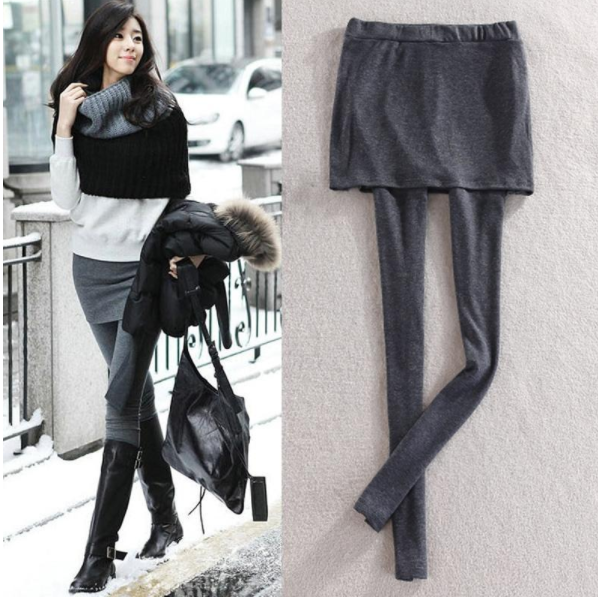 If you don't know what to wear with gray leggings, just wear them under your pretty mini-skirt and you'll get a gorgeous look. Almost all the types of skirts work well with leggings. When you want to go out anywhere with your friends or boyfriend, a good combination of leggings and a skirt will be a cool option. Just put on a cute knitted scarf for a glamorous look.
4. Leggings Matched with a Summer Dress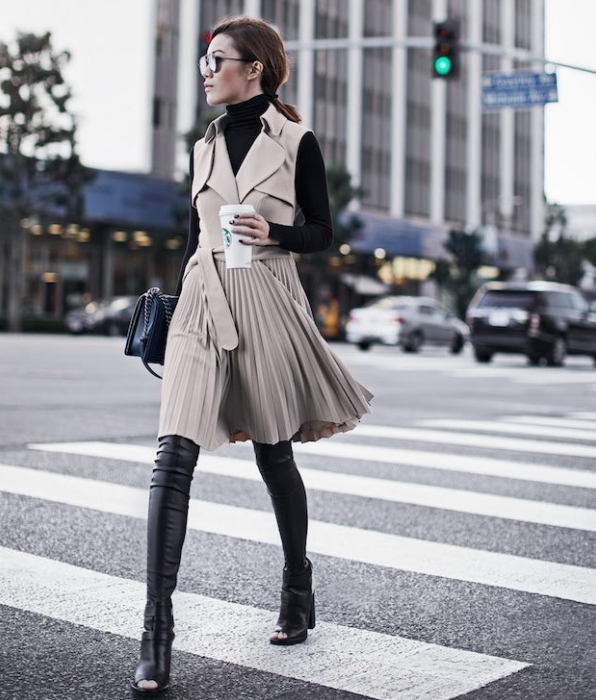 Among leather pants outfit ideas, leather leggings paired with a summer dress are the best one. Don`t be afraid of wearing the summer dress even in the coldest months of the year. Dresses always look very stylish and chic, and when you decide to pair your dress with leather leggings, you get a warm and comfy combination for every occasion.
5. Leggings and Oversized Sweater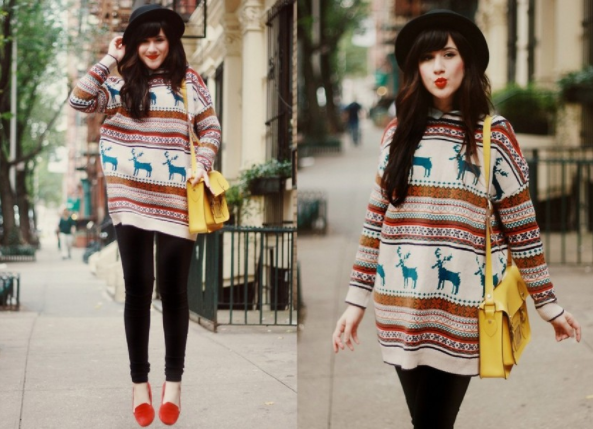 Here is one more spicy leggings outfit idea that fits almost any occasion and provides you a great comfort. A sweater paired with leggings is a perfect choice, especially if you put on black leggings and a patterned oversized sweater. For footwear, it would be better to choose bright heels.
6. Leggings with a Leather Jacket and Heels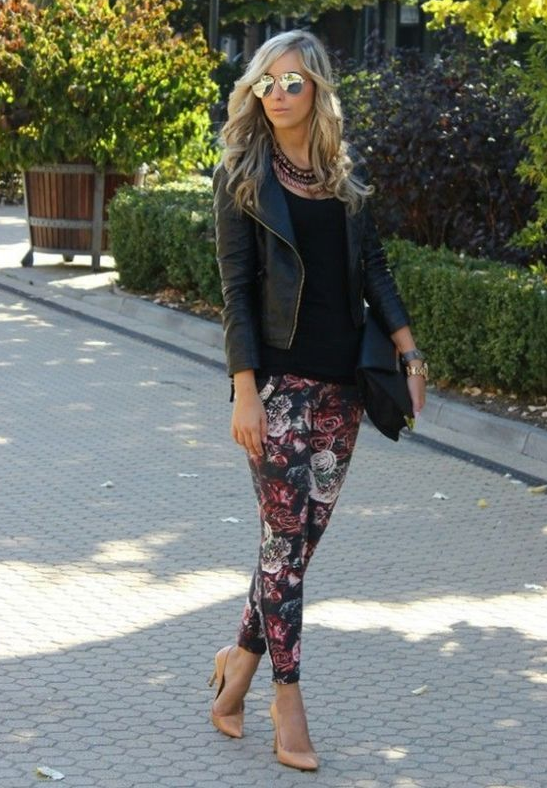 If you want to make your look a little bit bold, pair floral or patterned leggings with a leather jacket and black T-shirt. Throw on accessories like a necklace, watch and handbag and wear heels of basic color (beige, white etc.).  And you`re ready to go out!
7. Leggings Paired with a Trench Coat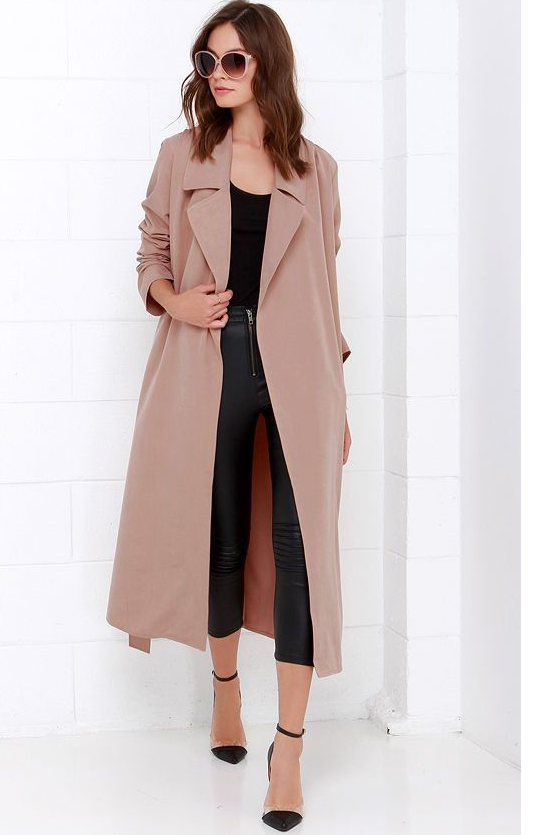 As you can see, leggings can be really matched with absolutely everything. The night, trench coat with leather leggings and a black tee also create a classy outfit that fits well for an evening out as well as an afternoon walk. Just pick out the right footwear to feel comfortable.
Leggings are considered the best substitute for jeans. Wearing them you can create a pretty office outfit as well as casual one. Experiment with your look and be sure you always look sexy and fascinating in your leggings.