The David Drebin exhibit opening night party brought out collectors, art lovers and trend setters from the worlds of fashion and business
On Wednesday May 23rd, international art sensation, David Drebin, came home to Toronto to open his exhibit at Galerie de Bellefeuille in a joyful, exuberant evening that celebrated his ten-year collaboration with the esteemed gallery and the loyalty of his Canadian collectors. The spectacular gallery was packed from the moment the doors opened with a wide spectrum of guests from the worlds of fashion, business and entertainment with one thing in common – an appreciation for Drebin's compelling, voyeuristic approach to art.
The multi-media show features pieces that showcase Drebin's signature style and will be running at the Galerie de Bellefeuille until June 4, 2018.
Guests were excited to welcome Drebin, who now resides in New York City and exhibits around the world, back to Toronto. According to Geoffrey Dawe, publisher of Festival Style Magazine, many in the city saw his talent before he graduated to the international stage. "He used to shoot for us at FQ Magazine and his talent always stood out."
The elegant and savvy gallery owners, Helen and Jacques Bellefeuille, were delighted to see such a warm response in Toronto. "We searched a long time to find the right space in Toronto, a place where we could exhibit fine art with respect. We are thrilled to be here tonight to showcase David's work. What a night!"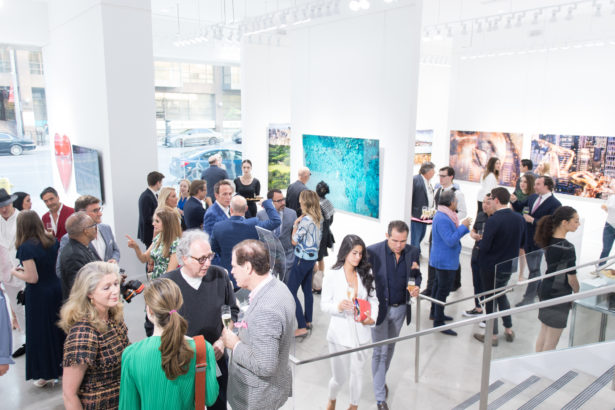 Drebin himself, dressed in a striking head-to-toe white ensemble, was the consummate host, warmly welcoming all guests and telling personal stories about the art. "Tonight is all about the collectors and this evening is to show my appreciation," Drebin said.
While Drebin is most known for his cinematic photographs of women, his body of work includes light boxes, sculptures, neons and etchings on glass. TeNeues Publishing has produced five luxurious coffee table books dedicated to his work, which were all on display at the event for guests to enjoy.