Call us #blessed, because we screened A Star Is Born at the Toronto International Film Festival! That's right, the most must-see movie of this year's TIFF! Thank goodness, this work of cinema does not disappoint. It's utterly enthralling from the magical beginning to its poignant end.
Obviously we don't want to dampen your eventual enjoyment of this modern-day masterpiece starring Bradley Cooper and Lady Gaga, which is also directed by the former. For that reason, we'll avoid important plot spoilers. However, this article will answer your most burning questions about the rumours and innuendo surrounding this fall's most anticipated movie. We hope you find it enlightening!
Don't forget to reserve your tickets to see this movie when it opens on October 4th.
1. Lady Gaga is not credited as Stephanie Germanotta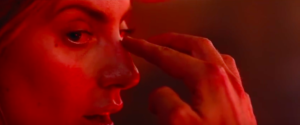 A Star Is Born is our girl Gaga's movie star turn. In it, she proves herself a true actress, bringing gravitas and emotional depth to Ally, the aspiring singer she portrays. However, as soon as speculation about her Oscar chances began this summer, pop culture enthusiasts predicted she'd be credited by her birth name, Stephanie Germanotta, in the movie. Why? Well, some theorized the performer would distance herself from the highly stylized Gaga persona in a bid to gain respect as an actress. Well, our Gaga is no sellout! She's keeping her stage name and proud of it. As the final credits of A Star Is Born prove, she'll always be our Lady Gaga, no matter how high she climbs. Isn't that heart-warming? If you're anything like us, that fact will make you want to dance naked in your living room to "Poker Face."
2. Bradley Cooper can really sing! 

In the trailers, Cooper's vocal performance look promising. And we're happy to report the finished movie features several musical performance on his part, all of which are outstanding, and don't seem the least bit autotune. Had he not become an award-winning actor, the Cooper, as we call him, easily could have been another Keith Urban. We'd totally buy his country album! Of course, Cooper did have a little help. As he said in an interview with Vulture last spring, Gaga decreed to her costar/director: 'I'm gonna rely on you to get a performance that's honest out of me' — because she'd never done a film before — 'and I'm gonna make sure that you're going to turn into a musician. Because we're going to sing everything live.' Judging by both their performances, these stars pushed each other to be better, and that really paid off.
3. Yes, The Film Features Several Lady Gaga Performances With Original Songs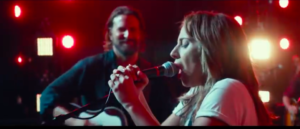 The trailer featuring Gaga crooning "we're both in the shallows now" went viral some time ago. Going into this movie, we all knew her character would do some stellar vocal stylings, but the rumours that approximately 45 minutes of the film are filled by Gaga's magical contralto voice are true! in addition to being a compelling drama, A Star Is Born has the added bonus of feeling like it was filmed at a Lady Gaga concert! We're sure the fact that these performances were filmed live – at Gaga's assistance – contributed to their authenticity. And the most exciting part is almost all the songs are new! We cannot wait to purchase this quality soundtrack. We'll be jamming to these tunes all autumn!