Fall is upon us, and the scent of pumpkin spice in in the air! We have curated three of the best – and easiest – tasty fall recipes for you to try out. Plus, all of these recipes are vegetarian, and most can be made vegan with a few tweaks.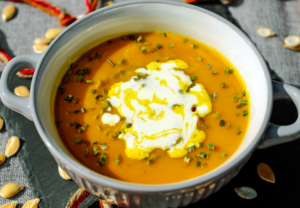 1. Autumn Glow Salad
Start your meals with this refreshing and healthy fall-inspired salad. You can eat it for lunch, or with dinner to get your greens in.
Ingredients:
1 butternut squash, peeled (optional) and cut into small cubes
Olive oil
Salt
Black pepper
Cumin
1/2 cup dried green lentils
1/2 teaspoon red wine vinegar
2 cups greens of your choice
Crumbled feta cheese
2 tablespoons Tahini dressing (tahini, lemon juice, garlic powder, salt, pepper, water)
Directions:
Toss your squash in olive oil, salt and pepper, and then bake it at 400°F for 25-30 minutes, flipping halfway through. While those are cooking, boil lentils and then leave to simmer for around 20 minutes, or until tender. After draining your lentils, add salt, cumin and red wine vinegar to taste.
 Then, all you have to do is mix your greens (we suggest arugula or mixed greens), squash and lentils. You can also add other toppings like dried cranberries and sunflower seeds for extra crunch. Top with crumbled feta and your dressing, and your salad is done!
2. 
Cheesy Cauliflower Casserole
The best vegetables are the ones covered in cheese! Use this easy cheesy cauliflower casserole recipe as a low-carb option for dinner.
Ingredients:
1 1/2 large heads cauliflower
6 tbsp. butter, plus more for buttering dish
1/2 c. heavy cream
6 tbsp. butter
3 cloves garlic, minced
2 c. grated white cheddar
1 c. freshly grated Parmesan
1 tbsp. fresh thyme leaves
Salt
Ground black pepper
Directions:
First, boil your cauliflower in salted water for about 8 minutes, or until soft. Then, drain the water.
Butter a large baking pan and add half your cauliflower, heavy cream, butter, garlic, cheddar, parmesan and thyme. Then repeat the layering process. Add salt and pepper as you like. Then bake your cheesy cauliflower goodness for around 30 minutes at 400°F, or until cheese is melted to your satisfaction.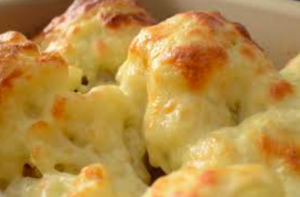 3. Vegetarian Chili
 This is the perfect dinner for those chilly autumn nights, when you want to snuggle up and eat something warm. It only takes 20 minutes, and will leave you feeling warm and satisfied.
Ingredients:
1 onion, chopped
2 tbsp. chili powder
1 tbsp. canola oil
1/2 tsp. salt
1 (28-oz.) can crushed tomatoes
1 (15-oz.) can black beans, rinsed and drained
1 lb. macaroni, cooked
1 c. shredded sharp Cheddar
Cilantro, for garnish
Directions:
First, boil and drain your macaroni. While that's cooking, add your chopped onion, chili powder, canola oil and salt into a large pot on medium heat. Stir often to mix the flavours together. Then add your tomatoes and beans and simmer on high for around 5 minutes. Then, mix in your pasta and cheddar, and top with cilantro. You can serve your chili with bread (sloppy joe, anyone?) or eat it with a fresh salad.