We all do it, buy a dozen lipsticks within the same shade range. We're drawn to the same colours because they look good on us. We're also drawn to the same colours because deep down we think this is going to be The One. We are always on the hunt for the lipstick that will change our entire look and life. Your perfect lipstick shade might on display in a department store somewhere in the world. But it might already be in the place you last expect—your makeup bag.
The biggest and best kept secret of my makeup bag is mixing lipstick shades, liners, glosses, and formulas to achieve the singularly most spectacular lip colour. You probably already have everything you need but fret not! I will recommend some great formulas and brands to help round out your collection.
Let's start with formulas and products. You can use any kind of lipstick whether it be in a tube, liquid lipsticks, lip liners, and gloss. You can also use any and all formulas. The order in which you layer the formulas is important and I will explain the order below.
Lip liners are also a fantastic and completely underrated product to help define the lip or all over the lip to add depth. Many makeup users discount lip liners. They believe that liner must match the lipstick exactly, or that the liner must be darker than the lip shade. It can seem intimidating. Let me tell you! Lip liners last a lifetime and are a versatile, well-priced product to round out your makeup bag. Another plus is lip liners contain more wax than their lipstick counterparts. The wax helps with your lipstick's staying power and its what can keep your lipstick from creeping off your lips and onto your skin. Go buy one, its fun.
Now, there are absolutely no rules when it comes to makeup and only best practices. If you're mixing different formulas together, it is best practice to layer them in the following order: liquid matte lipstick, matte lipstick in a tube, crème lipstick either in a tube or liquid, then finally gloss. Lip liner can and should be applied anytime throughout application to blend and achieve your gorgeous colour.
There are a few reasons for this specific layering order. A liquid matte makes a fantastic base, but layering it overtop a crème lipstick from a tube would be like trying to spread a glue stick over wet paint. Not a good mix! But if you are mixing similar or the same formulas together but in different shades-crème's with crème's, glosses with glosses, matte's with matte's, then you can just go wild.
When it comes to layering the colours, I find it best to apply light shades at the base and then adding darker or brighter shades over top. It is easier to apply small amounts of dark colours and blend them into the lighter base than it is to try and lighten up a dark base. Think about it like mixing paint. Adding a small amount of black to white immediately creates grey. But if you try and add a small amount of white to black it will appear as almost nothing has been added.
I recommend experimenting with layering colours and formulas on the back of your hand or arm before your face. Get a feel for how the colours and formulas layer together. If you have an orange-red lipstick, you will be surprised how fierce it looks blended well with a dark purple liner. Or try mixing a range of pinks and reds together to create the most wonderful rosy shade for fall. The amount of new shade possibilities are only limited by your imagination.
If you find you need to round out your lipstick collection to achieve some new looks, I recommend brands and formulas from Sephora below. Remember, you can experiment and return the product if it isn't right for you! Be a bold and fearless shopper.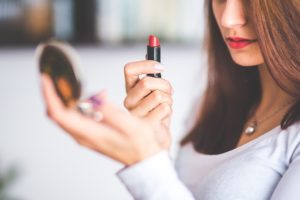 RELATED: A Guide To Amazing Mascara
I have the Melted Matte in Queen B and I use it as a base for most of my lipstick layering. It is a neutral shade with a hint of pink for a medium toned white girl like me. What I like most about this formula is that it is completely opaque, never cracks, and deeply long lasting. It provides a rich base to blend crèmes and lip liners. The shade range is quite limited so if you can't find a good base colour, then go to my next suggestion!
Sephora came out with this collection of liquid lipsticks at height of the craze and have been adding shades ever since. The formula of these liquid lipsticks is fairly fantastic. The colours are opaque but can be a bit drying and a little flaky after a few hours of wear. For those reasons I do not like to wear these shades alone and I prefer to mix them with a crème or another matte liquid lipstick. I also caution that the colour names and descriptions online do not match the tube. This is the one product I recommend going into an actual Sephora to test out colours!
This lipstick formula is like the favourite white t-shirt of lipsticks. It has great staying power but comes off easily, mixes well with other formulas, comes in a wide range of shades, and provides a rich colour that is super pigmented. These lipsticks will do your taxes and file your divorce papers.
MAC lip pencils are the favourite black t-shirt of lipliners. They will take your look from day to night, adding a touch of depth or staying power. They will create versatility to you look and one pencil will last quite literally forever.
These pencils were released a short time ago and they have become a new favourite. These pencils are marketed as multi-use, as an eyeliner, lip pencil, or a brow pencil. Theoretically, you can use any pencil from any brand anywhere on your face you like (as long as you clean them between uses). That small detail aside, these pencils do it all and I love them for lip liners. They come in 39 different shades, neutrals included. But MAKE UP FOR EVER is known for their bold pigments. I picked up a pencil in Versatile Violet and it makes a great lip and eye liner. Go for it!