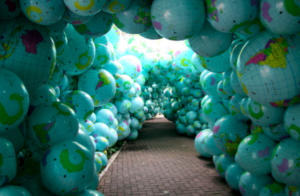 Make sure to take a nap first, because this date idea requires an all-nighter! Nuit Blanche is a night-time arts festival with displays all over Toronto. There are 81 projects, many of which include lights, giant installations, and sounds. Stop by different restaurants and shops to grab a bit to eat or a warm drink and then continue your adventure!
Some popular exhibitions include Hendrick's Gin L.E.V.I.T.A.T.R.E. hot air balloon at Nathan Phillips Square, STEAM-Powered Stories at the Science Centre, Arrivals and Encounters at the Aga Khan Museum, and the International Dumpling Festival on James Street. The festival runs from 7pm-7am, and TTC service runs all night, with free service on Line 3 (Scarborough) at some stations. There will also be free shuttle services and other road closures, so do your research beforehand!

They say laughter is the best medicine, so keep your relationship healthy with the Comedy Bar After Hours show. See your favourite comedians talk about everything inappropriate and hilarious while you sip on a drink and secretly giggle at your neighbours' wonky laughs.
Comedy Bar is located at 945 Bloor St. West. The after hours show runs from 11:30pm to around 1am September 28th-29th. Tickets are $7 at the door, cash only, or you can get in free with a JFL42 pass.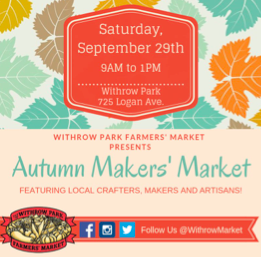 Take a break from busy city life with the Autumn Makers' Market at Withrow Park. You can check out local vendors selling handmade trinkets, artists, and designers in between sampling various hot sauces and lotions. Don't forget to grab a warm drink as you cruise through!
The market is open on Saturday Sept. 29th from 9am-1pm – perfect for a daytime outing. Bring your coziest sweater (or you can just cuddle…) and embrace the fall transition together.