Kaveh Nedamat an Katrina Lavasseur-Nedamat had their first date on the first day of summer. It was back in 2008, before Bumble and Tinder were even invented.  Now, ten years, one marriage, several homes, two high-flying carers, and a couple of kids later, they're still madly in love. So, how does this Toronto couple make it work?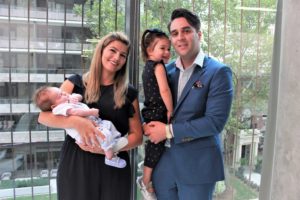 Katrina and Kaveh met the way many millennials do, through social media. But because this was 2008, they met through Facebook instead of Instagram or snapchat. Kaveh was in dental school at the University of Toronto when he befriended Katrina's bestie, Kim. Kim liked Kaveh, but she wasn't sure he was ready to settle down. "She told me she'd fix me up with her best friend if I wasn't such a man whore." For his part, Kaveh rejects the "man whore" descriptor. He had just exited a committed, five-year relationship, and was casually – but respectfully – dating a few different women.
However, when Kaveh saw pictures of Katrina on Kim's Facebook page, he only had eyes for her. Kaveh sent a friend request, and swiftly slid into Katrina's DMs. But it was actually Katrina who took the plunge, and asked Kaveh out. That initial night played out like a scene from Netflix rom com.; a nervous Katrina jumped out of Kaveh's moving car to avoid avoid a goodnight kiss. A few minutes later, a blushing Katrina decided to text a friend to say she'd just finished the best date with "a really great guy." In a hilarious twist, she accidentally sent the text to – you guessed it! – Kaveh! From that day onwards, they were pretty much inseparable.
Over the ten years they've been together, Kaveh and Katrina have helped each other grow. When they met, he was in dental school and she was working an unfulfilling job for an insurance company. When Katrina decided her dream was to pursue a master's degree in social work, Kaveh moved with his partner to Ottawa so she could attend graduate school. When she completed her degree, the couple of five years finally tied the knot at Rosewater Supper Club in downtown Toronto. A few years later, the husband and wife bought a family home in Etobicoke.
The success of Kaveh and Katrina's marriage owes as much to mutual respect as it does to affection. When conflicts arise, Katrina appreciates how her husband listens to – and appreciates – her concerns. After she slid into the toilet bowl one night shortly after they started living together, Kaveh resolved to become more considerate. He tells Eligible, "Either at work or at home, I always make sure to leave the toilet seat up now."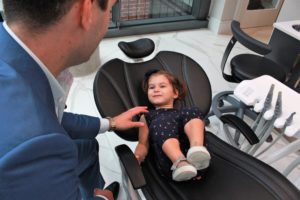 For his part, Kaveh appreciates how thoughtful Katrina is. On the days when he travels for work, Katrina frequently prepares a healthy, homemade lunch for her partner. "She makes my day better," says the young dad.
It should be said that Kaveh and Katrina work hard to have an equitable marriage. While she does the cooking, he's an expert cleaner who takes care of vacuuming and tends to the dishes. Both of these busy professionals  make sure to spend quality time with their children, reading to them, cuddling them, and making sure they don't skip bath time. The couple are raising their daughter based on feminist principles, preferring to show little Leila children's movies that aren't about princesses. They are also working hard to teach their daughter the principles of consent. As Katrina explains, "We don't make her hug people if she doesn't want to. If she sees family and she doesn't feel like a hug, that's okay. She'll give them a high-five instead." When their baby son is a little older, they also plan to teach him the importance of respecting one's own physical boundaries, as well as the boundaries of others. Says Katrina, "We care a lot about raising a son who is a nice person."
Today, Katrina and Kaveh are busier than ever. She works as a therapist West of the city, and he treats patients at The Glasshouse, a dental practice in Yorkville. How do the make time for each other while managing two fast-paced careers, a toddler daughter and a newborn son? Well, the answer is that romance comes in all shapes and sizes! The couple maintain their bond by making time to nurture their relationship in resourceful ways. Says Katrina, "We get up early on Saturdays to have coffee and talk before the kids are up." Kaveh explains the couple also make good use of car trips to carve out quality time. "I like driving her places so we can hang out and have a conversation. We can have some pretty great talks that way."
That's how they make it work!