Whoever said breakfast is the most important meal of the day was WRONG. It's obviously dessert. So indulge that sweet tooth by trying these mouthwatering fall desserts. These recipes are guaranteed to satisfy your cravings this autumn.
1. Peanut Butter Stuffed Apples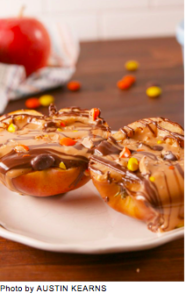 Ingredients:
3 apples, halved
2 tbsp. butter, melted
1 c. smooth peanut butter
1/4 c. chopped Reese's pieces
2/3 c. semisweet chocolate chips, melted
Directions: Cut your apples in half and scoop out the core using a melon baller or spoon. Brush your apples with butter and place them in the oven for 15 minutes at 375°F. Then, add a scoop of peanut butter into the well of each apple. Bake for another 15 minutes. When your baking is done, add your Reese's pieces and chocolate chips, and you're peanut butter apples are ready to eat! You can also switch out the peanut butter for almond butter or caramel, and add different toppings like Skor bits or crushed pecans.
2. Pumpkin Spice Rice Crispy Squares
Ingredients:
3 TBSP Butter or Margarine
1 bag of Mini Marshmallows (10oz)
6 cups of Rice Krispies
Pumpkin Puree
Pumpkin Spice (optional)
Cinnamon
Directions: Start by melting butter in a warm saucepan. Then add marshmallows until melted. Add a few tablespoons of pumpkin puree (depending on how much cereal you are planning to add). Then, add pumpkin spice and cinnamon for extra flavour. You can taste the mixture as you go, adding more until you have the perfect blend. Then add the Rice Krispies and mix well. Press your mixture into a pan to harden and then cut your squares! You can also add toppings like crushed pecans, Reese's pieces, caramel, icing, and more. You can also add orange or red food colouring to make your treats even more fall-inspired.
3. Pumpkin Brownies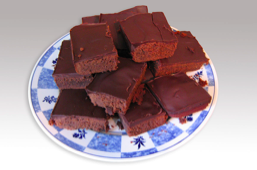 Ingredients:
3 cups Pumpkin Puree
2 cups Cocoa Powder
1.5 cups Peanut Butte
⅓ cup Sugar
Chocolate Frosting
Directions: First, preheat your oven to 350°F and line a baking pan with parchment paper. Then, use a large bowl to mix your pumpkin puree, cocoa powder, peanut butter and sugar. You can also add pumpkin spice and cinnamon for a little something extra. Mix your ingredients until smooth. Then transfer your mixture into a pan and bake for about 35 minutes. You can check if your brownies are finished by inserting a toothpick in the center. If it comes out clean, your brownies are done! Add your icing and enjoy! NOTE that these brownies can come out bitter, so you can add extra sugar or maple syrup for a sweeter taste.
4. Chocolate-Covered Pumpkin Spice Dates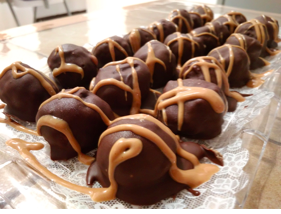 Ingredients:
Pitted dates
Chocolate Chips
Pumpkin Butter
Directions: Start by slicing the dates open lengthwise, creating a small pocket for your pumpkin butter. Then spoon the pumpkin butter into the slit, filling the inside of the date. You can buy pumpkin butter at some grocery stores or farmers markets, but it's also super easy to make using this recipe. Next, melt your chocolate chips in the microwave, and then dip your dates in the its chocolatey goodness. You can add a sprinkle of crushed pecans, chocolate shavings or a caramel drizzle for extra deliciousness. Put your dates on a plate and refrigerate until the chocolate has hardened. Then, enjoy your delicious and nutritious pumpkin spice dates! If you're not a big fan of pumpkin you can use any kind of nut butter or caramel instead.