It's the dead of winter and your hair is feeling it. The constant dry heat coming from your radiator, coupled with using your hot tools, everything is just frying your hair. What products can you use to bring some shine and resiliency back to your gorgeous mane? Look no further, because there are some great products on the market to rescue our stressed tresses.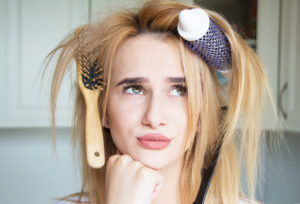 When you're shopping for hair products you want to look for words like 'strengthen' and 'repair.' Words like 'shine' and 'bounce' are cool, but they aren't really going to help with the overall health of that Medusa-style locks. Remember: dead ends are dead and they cannot be brought back to life. If length is your goal, you want to focus on maintaining the healthy hair you have, so you can go longer in between cuts. That means at-home hair care, when done well, can actually save you money on styling!
If you're like me and your hair is dryer than the Sahara Desert, hair masks can be invaluable. Here are a couple of my favourite products to get you through the winter.
Bumble and Bumble Hairdressers Invisible Oil Balm-to-Oil Pre Shampoo Masque
Bumble and Bumble's Invisible Oil line combines six oils including argan, coconut, macadamia nut, sweet almond, safflower seed, and grapeseed oil. Be warned, this product is only for extremely parched hair and is very heavy. For that reason, I only concentrate the application from my ends to a few inches below my roots to reduce the risk of buildup and maintain volume at my roots.
So, for application: I scoop a quarter size amount into the palm of my hand and slowly rub them together to transform the balm into an oil. I then finger comb it through my hair from the ends to a few inches below my roots. I then put my hair into a bun. I wait a luxurious twenty minutes (or longer. I once wore this hair mask on a plane because, why not?) and then proceed with my usual shampoo and conditioner routine. My hair comes out so shiny but more importantly, the strands are soft, not frizzy, and beautifully weighted with oils.
Briogeo Don't Despair, Repair! Deep Conditioning Mask
This is the only hair mask that has actually restored elasticity to my hair. I know, sounds like an urban legend, but its true! Briogeo burst onto the market last year and has been a mainstay ever since. I'm going to be completely honest with you and say I cannot point to one exact ingredient in this product that makes it such a showstopper. Perhaps it is the Rosehip oil, or maybe it's the B-vitamins. It could even be the sealing effects of the almond oil, which prevents frizz. Either way, if you have dry hair, you need this hair mask.
Remember when I said dead ends are dead ends and cannot be brought back to life? Well, I wasn't lying. But if one product comes even close to doing that, it is this one. Olapex is the first and only product with patented technology to relink the broken bonds in hair caused by over styling (or just regular ol' styling, no judgment from me). I apply about a dime size to my ends about once a week and leave it in for ten minutes at the very least. What I love about this mask is how I see results right away. My hair is naturally wavy and sometimes I just lightly flatiron the ends for a tousled look. It means my ends get fried pretty quickly. When I am dedicated to using Olaplex No. 3 on a regular basis, my long hair stays strong. Who says you can't have it all?
Sephora Collection Gloss: Dual Boar Bristle Brush
If you have dry hair, it is important to build up natural oils to distribute them throughout the rest of your hair. But not any old hairbrush will do the trick. Boar bristle brushes are the best for your tresses. They massage and stimulate your scalp to promote blood flow and hair growth, distribute oils from root to tip, and avoid breakage unlike their plastic counterparts. Boar bristle brushes are famously expensive, with the world famous Mason Pearson hairbrush running you a cool $325. Luckily for you, Sephora carries a boar brush mixed with nylon bristles at an even cooler $25. Think about the ways you can spend the other $300 while brushing the oils from your roots through your ends, nourishing those parched strands.