Valentines Day is right around the corner. Whether you have plans with a partner or you're pulling a Leslie Knope and doing Galentines with your best pals, getting gussied up makes V-Day more fun!
We've pulled together outfit ideas for your for Valentines Day 2019. Similar looks looks can be found both online and at brick and mortar stores, but I sourced them from Cloakroom, a Toronto-based online women's clothing store specializing in breezy California seasonless styles. Whether you're doing a daytime brunch with the girls or an evening date with your partner, we've got you covered.
Be the Cool Kid in a Jumpsuit!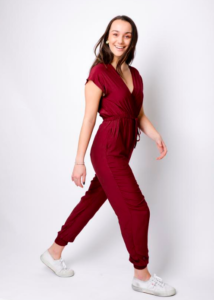 Jumpsuits are a universally flattering fit with the versatility to go from day to night. Riseley is sporting a deep cranberry jumpsuit with a chic tie at the waist. We kept the look simple with a pair of vintage gold and pearl earrings and simple white sneakers. You can throw on a denim jacket for a comfortable daytime brunch date with the girls. If you're headed for a fancy dinner date, you can team your glam onesie with a leather jacket and a pair of flats, heels, or booties. Jump into your jumpsuit and get styling for Valentines Day!
RELATED: Check Out The Garrison's Special Valentine's Day Menu
Live the 1970's California Dream!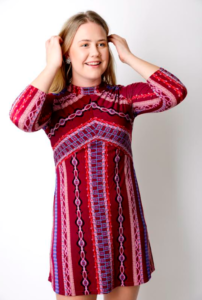 The 70's are back in a big way and we have a lot to be thankful for. Becky is wearing an A-line dress that flatters all body types and is comfortable to wear all night long.  The dress is paired with a glittery earring and sneakers. You could also up the ante on the look with a pair of chunky heels, or make it warmer for the pre-spring weather with a pair of tights and booties. You're sure to have a very groovy and effortless evening in this fun dress!
Enjoy Floral Flounce with a Bounce!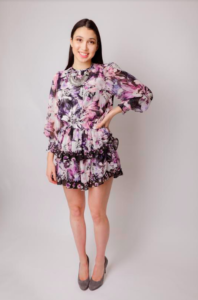 A fun print and movement are exciting features for any outfit, and this dress brings both. We kept this look simple by putting Katja in a pair of neutral grey suede heels. We added texture with a simple silver collar necklace. You can bring some edge with a fur style, a leather jacket, or a pair of studded booties. This dress has long sleeves, so if you're looking for warmth you should keep the tights to a sheer skin tone and flaunt those gam
CREDITS:
Concept by Kaley Ames
Writing by Kaley Ames
Art Direction by Kaley Ames
Styling by Tamara Elituv