Khloe Kardashian still might not be over, her Tristan Thompson and Jordyn Woods love triangle. The reality star took to her Instagram story late Tuesday evening, with a post that read "sometimes people victimize themselves so they don't feel guilty for the things they did to you" & damn…".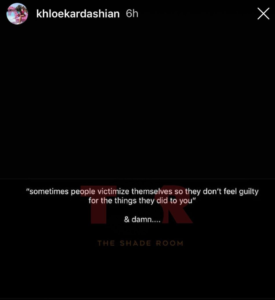 Image from The Shade Room Instagram
After reading this post, fans can't help but speculate that the "victim" she is referring to is Jordyn Woods, who allegedly hooked up with Tristan Thompson at a house party in February. Jordyn Woods is the former best friend to Khloe Kardashians youngest sister Kylie Jenner.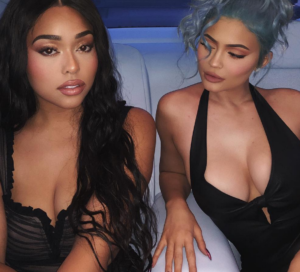 Image from Jordyn Woods Instagram
Khloe initially blamed Jordyn for Tristan's cheating, which caused her to received a lot of criticism on social media. Khloe was also accused of allegedly getting together with Tristan Thompson while he also had a pregnant girlfriend. Khloe then set the record straight regarding both statements by retracting her comment made against Jordyn and re-posted tweet claiming that she met Tristan long after he had broken up with his then girlfriend Jordan Craig.
In recent news during an interview with ET, Jordyn Woods claimed to rather move on from this situation, as she said, "Everyone has the right to speak their truth… life moves on money doesn't stop … and hopefully, everyone is moving forward".
The next episode of KUWTK hints towards the unveiling of the love triangle drama.  In the brief clip fans also hear that  Tristan admits to cheating on Khloe with Jordyn Woods. Kylie is seen having a heart to heart with her sisters after Khloe is told the events of what exactly happened at the house party.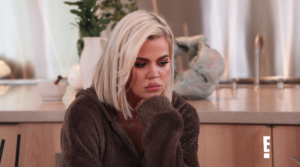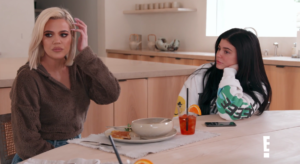 Khloe also stated on Twitter that she will not be live tweeting during the airing of the next episode. Khloe tweeted " well needless to say I will not be live chatting next week. Sorry guys." The next episode of KUWTK airs Sunday, June, 23rd on E!.