Are you looking forward to the Fourth of July? Celebrating the 243rd anniversary of when the Second Continental Congress signed the Declaration of Independence? We have some suggestions for what you can do to make the day extra fun for you, your friends, and loved ones.
Chicago
Fourth of July Parade at Independence
This free parade will take place at Chicago's Independence Park from 10 a.m. to noon. The event is for all ages and family-friendly. There will also be numerous outdoor activities as well as many things to see and do around the Irving Park neighborhood. You won't want to miss this fun-filled family event!
Fourth of July Four-Course Fireworks Dinner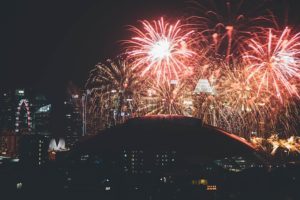 Do you want to have the best possible firework views in Chicago? This fireworks dinner event might do the trick. Reception foods will include antipastos and salads, main meals will consist of boneless short ribs and maple glazed salmons along with several sides, while sweet foods will consist of classic tiramisus. The fireworks will start at 9:30 p.m.
Tickets for two top tables cost $80 while purchasing two tickets, and tickets for four top tables cost $80 while buying four tickets. 
Los Angeles
4th of July Community Festival and & Fireworks Show
At Exposition Park, this free family event will offer many activities such as contests with prizes, face painting, games, inflatable jumpers, and rock climbing. Food will include many culinary specialties and tasty treats. There will also be live performances with guest stars such as Candice Boyd, Rodney O, Selenamos and many others.
This event will begin at 11 a.m. and go on until 10 p.m. The live performances will start at 2 p.m. while the fireworks will launch in front of the National History Museum at 9 p.m. 
City Lights & Sparkling Skies: Fourth of July Celebration Dinner
How about spending the Fourth of July at a Wine-Spectator award-winning steakhouse on the 71st floor of the Wilshire Grand Centre named the La Boucherie, which is the tallest building on the West Coast. You will have stunning 360-degree views of Los Angeles while enjoying a live DJ, cocktails, and an exceptional menu.
Tickets cost $165 with $11.68 fees for Six-Course dinner seatings, $85 with $6.81 fees for wine pairings, and $800 with $50.33 fees for starlight booths. You also must be 21 or older to attend this event.
NYC
Fourth of July Fireworks Dinner Cruise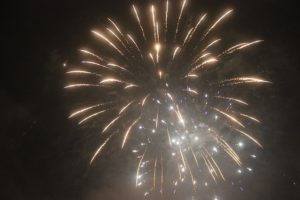 Come aboard the Bateaux for a fun night of cruising! You will get to enjoy dinner, award-winning wines, a live band, a dance floor, a platinum open bar, amazing views of the skyline, and finally, watching the Macy's 43rd Annual Firework display. You must board the cruise by 5:30 p.m. and the cruise will go on from 6 to 11 p.m. 
For cruise tickets, gold packages cost $609.90 each, while silver packages cost $549.90. Additional upgrades such as a romance for two dinner costs $109.90, seafood tower for two costs $58, while 6×8 boarding photos cost $22.96. Also, if an anniversary or a birthday is going on, don't miss the opportunity to submit this information when buying tickets! Each bar attendees must also be at least 21. 
The 5th Annual Freedom Fest at Pier 15
This family-friendly event will take place at the South Street Seaport from 6:45 to 11 p.m. It will offer many activities making your night unforgettable such as an official JulyFourth.com credential, a premium open bar which opens at 7, a live DJ playing many popular tunes, watching the Macy's firework display, and a summer BBQ buffet. The buffet will offer foods such as burgers, hotdogs, chicken wings, Caesar salad, and more!
Tickets cost $209 with a $14.86 fee for each person and are standing room only.