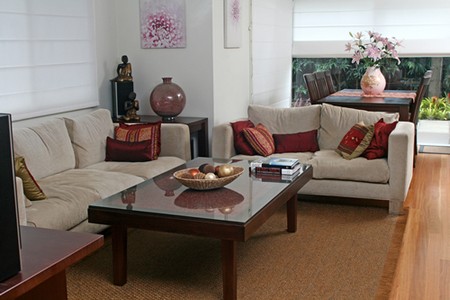 Creating a warm, friendly and unforgettable home does not have to reside in expensive furniture and a professional design job.
What makes a space unique and alluring is the feeling that exudes from and within the space and creates atmosphere.
"Atmosphere" is what we experience in our own space or in a friends house.  The result of that feeling, whether it is happiness, security, calmness, stress or misery directly affects our daily life and is the first step towards tuning the blue print of your home with an un-seen energy.
How many times have you reached home after a long working day and you felt not home?
Have you ever thought why your friend's house is more energetic and relaxing than yours, or why he or she is more successful than you?
In order to form harmonious space full of purpose and longevity building up a connection between you and your home is the first step.
Here are few easy steps:
Act like a scanner and walk through your house, room by room and find out what is it that you like or you do not like in that specific room.
Remove all the items that don't provide you a comfortable or pleasant feeling and replace them with something that you would love.
You might have to spend time to find the right piece or using your creativity and remodeling them to something that you like.
Make sure every corner of your house is treated evenly, even your storage. Being organized is a rule of thumb.
Check on your plants and be assure that they are fine. If you don't have any plants maybe it's a time to buy some. A fresh cut flower on the dining table is an easy way to fresh up the room
The entrance door to your apartment or house represents you and your approach to life. Hence a tight door is a symbol of getting stuck in life, therefore it is important to check your doors and make sure they are moving smoothly.
Sharp edges count as a poison arrow in Feng Shui and you need to be mindful about them. For instance having a sharp edge:
In the North corner of the space might affects our kidneys or ears.
In the East results in sickness related with feet and lungs
Non-reason headache might arise form the Northwest corner
In the West it can causes lung issues
Back problem could be associated with the Northeast section
Sharp edges in the Southeast might cause constant colds
Heart problems could be related to the South direction and stomach issues might be related to the Southwest area.
To sum up, our wellbeing and life quality can be improved considerably by creating a harmonious atmosphere in our living space.